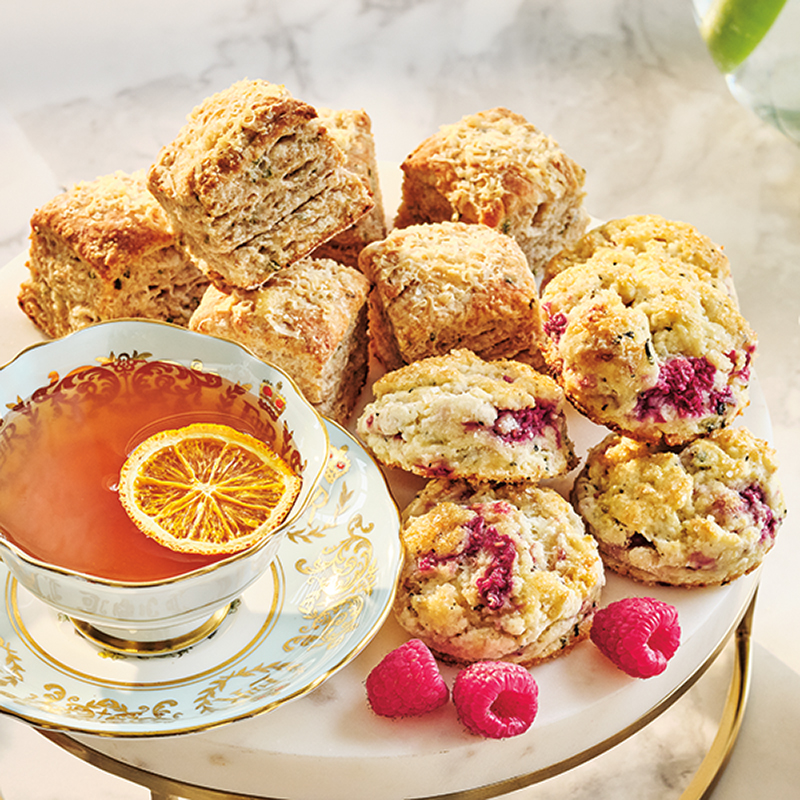 Raspberry & Jasmine Tea Cream Scones
Ingredients
Serves about 20 scones
2½ cups (625 ml) all-purpose flour, plus extra for dusting
5 tbsp (75 ml) granulated sugar
1 tbsp (15 ml) Jasmine tea leaves
1 tbsp (15 ml) baking powder
¼ tsp (1 ml) fine sea salt
6 tbsp (90 ml) unsalted butter, chilled, cut into large chunks
1 cup (250 ml) whipping cream
½ tsp (2.5 ml) vanilla extract
1 cup (250 ml) fresh raspberries or frozen raspberries, thawed and drained
demerara sugar, for garnish
butter, jam and clotted cream, to serve (optional)
Instructions
In a large bowl, whisk together flour, sugar, tea leaves, baking powder and salt. Add butter and rub it into flour mixture using fingertips, two butter knives or a pastry blender until mixture resembles coarse meal and butter is pea-sized.
In a glass measuring cup or medium bowl, whisk together cream, 1 egg and vanilla. Pour cream mixture into flour and butter mixture and stir with a fork until a shaggy dough forms.
Turn dough out onto a lightly floured work surface. Scatter raspberries on top of dough and gently knead raspberries into dough using hands or a pastry scraper, until raspberries are evenly distributed throughout. Because of raspberries, dough will be quite moist at this point; lightly flour work surface as needed to prevent sticking.
Pat dough into a circle about ¾-in (2 cm) thick, cover loosely with a clean kitchen towel and let rest. Preheat oven to 425 F (220 C). Line a rimmed baking sheet with parchment paper and set aside.
Once oven is hot, use a 2-in (5 cm) round cookie cutter dipped in flour to punch out circles of dough. Cut them as closely to one another as possible and you should get about 14 rounds. Place rounds on prepared baking sheet as you go. Gather and gently re-shape dough scraps into a ¾-in (2 cm) thick round and punch out more circles; you should be able to get another 5 to 6. Place on prepared baking sheet and discard any remaining dough (re-rolling it will result in a tough scone).
In a small bowl, beat remaining egg with water until well combined. Lightly brush tops of scones with egg wash, then sprinkle evenly with demerara sugar.
Bake scones, rotating pan halfway through cooking time, until golden brown, about 13 to 18 minutes. Allow scones to sit on baking sheet for 2 minutes before transferring to a cooling rack. Serve warm or at room temperature the same day with butter, jam and clotted cream, if desired.
Drink Pairings