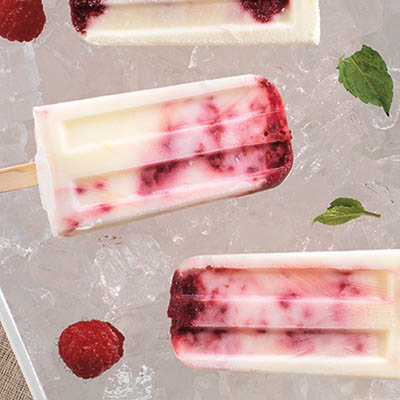 Ingredients
Serves 10 Ice Pops
3 cups (750 ml) fresh raspberries
½ cup (125 ml) granulated sugar
2 cups (500 ml) plain Greek yogurt
½ cup (125 ml) liquid honey
Instructions
Mix raspberries, sugar, lemon juice and salt in a medium-sized, heavy-bottomed saucepan. Bring to a gentle boil over high heat, stirring occasionally. Reduce heat to medium and cook, uncovered, for 5 minutes.
Strain juice from saucepan into a small saucepan, reserving raspberry pulp. Cook juice over medium heat, stirring constantly, until reduced to a syrupy consistency, about 10 to 15 minutes. Once reduced, add to berry pulp and stir together to blend. Bring to room temperature and refrigerate until cold.
In a mixing bowl, combine yogurt, milk, honey and lemon zest and stir until combined. Spoon yogurt mixture and berry pulp in alternate layers into ice pop moulds. Insert sticks and freeze until firm, about 3 hours or preferably overnight.
Drink Pairings