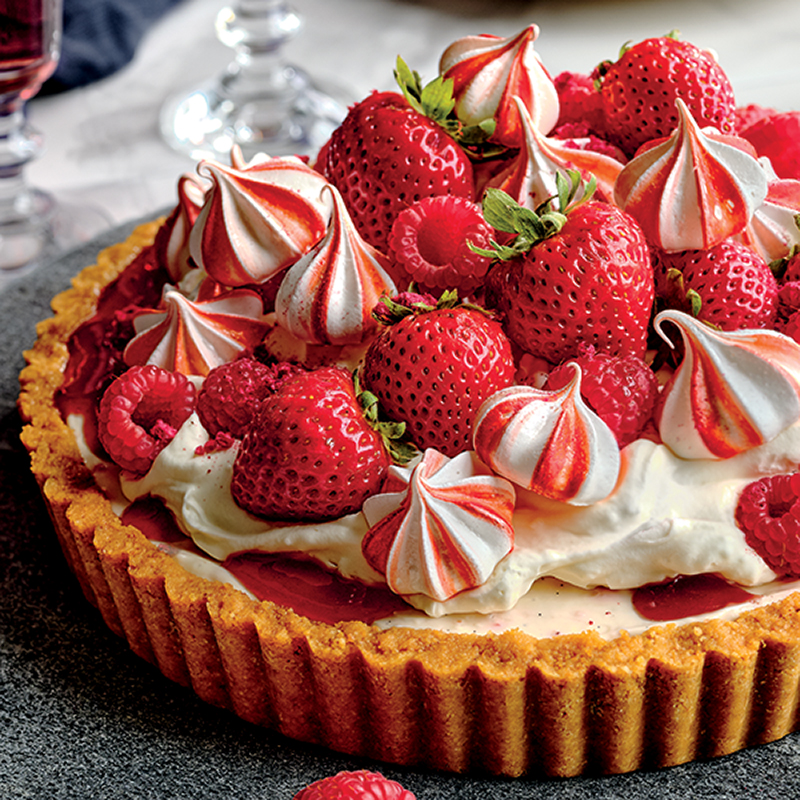 Red Berry & Meringue Cheesecake
Ingredients
Serves Serves 8 to 10
2 large egg whites, room temperature
⅛ tsp (0.5 ml) cream of tartar
½ cup (125 ml) berry sugar
red gel food colouring (optional)
1¾ cups (425 ml) finely crushed graham cracker crumbs
6 tbsp (90 ml) unsalted butter, melted
½ tsp (2.5 ml) kosher salt
4 oz (125 g) white chocolate, melted
2 x 8 oz (250 g) packages cream cheese, room temperature
1 x 14 oz (398 ml) can sweetened condensed milk
1 vanilla bean, split and seeds scraped out
¼ cup + 1 tbsp (60 + 15 ml) fresh lemon juice, divided
½ cup (125 ml) roughly chopped freeze-dried raspberries or strawberries, plus extra for garnish
½ cup (125 ml) seedless raspberry jam
1½ cups (375 ml) whipping cream
2 tbsp (30 ml) skim milk powder (optional)
1 tsp (5 ml) vanilla extract
fresh raspberries and strawberries, for garnish
Instructions
Start by making meringues. Preheat oven to 225 F (110 C). Line a baking sheet with parchment paper and set aside.
In bowl of a stand mixer fitted with whisk attachment, whip egg whites and cream of tartar on medium speed until soft peaks form, about 3 minutes. With mixer running, add sugar 1 tbsp (15 ml) at a time, waiting until each is fully incorporated before adding more. Continue mixing until egg whites are glossy and hold stiff peaks, about 4 minutes.
If making red striped meringues, fit a piping bag with a large star tip. Using a small paint brush or wooden skewer, paint vertical stripes the length of the pastry bag with a few drops of food colouring. Transfer meringue to piping bag and pipe meringues onto prepared baking sheet, about 1-in (2.5 cm) in base diameter. Transfer to oven and bake for 45 minutes to 1 hour. Meringues should easily be able to lift off parchment. Turn off oven. Prop oven door open with a wooden spoon and let meringues cool completely, about 2 hours. Meringues should feel crisp and dry. Use right away or store in an airtight container at room temperature for 1 day.
To make cheesecake crust, in a medium bowl, mix together graham cracker crumbs, butter, salt and white chocolate until well combined. Press mixture evenly into an 8 or 9-in (20 or 23 cm) tart pan with removable bottom. Transfer to freezer while making filling.
Place cream cheese in a large bowl. Using a hand-held electric mixer at medium-high speed, beat cream cheese until smooth, about 1 minute. Beat in condensed milk, scraping down sides of bowl with a rubber spatula as needed. Add vanilla seeds and ¼ cup (60 ml) lemon juice and mix until thoroughly incorporated. With a rubber spatula, fold in freeze-dried fruit. Pour filling into chilled crust and smooth top with a rubber spatula. Refrigerate until firm, about 3 hours or up to overnight.
Meanwhile, in a small bowl, whisk together jam with remaining 1 tbsp (15 ml) lemon juice. Set aside.
When ready to serve, make whipped cream. In a large bowl, whisk together whipping cream, skim milk powder, if using, and vanilla extract until medium peaks form, about 4 minutes.
Remove cheesecake from tart pan and place on a cake stand or serving plate. Drizzle raspberry jam mixture over cheesecake, then dollop with whipped cream. Garnish with meringues, fresh raspberries and strawberries and a sprinkle of crushed freeze-dried fruit. Slice and serve.
Drink Pairings