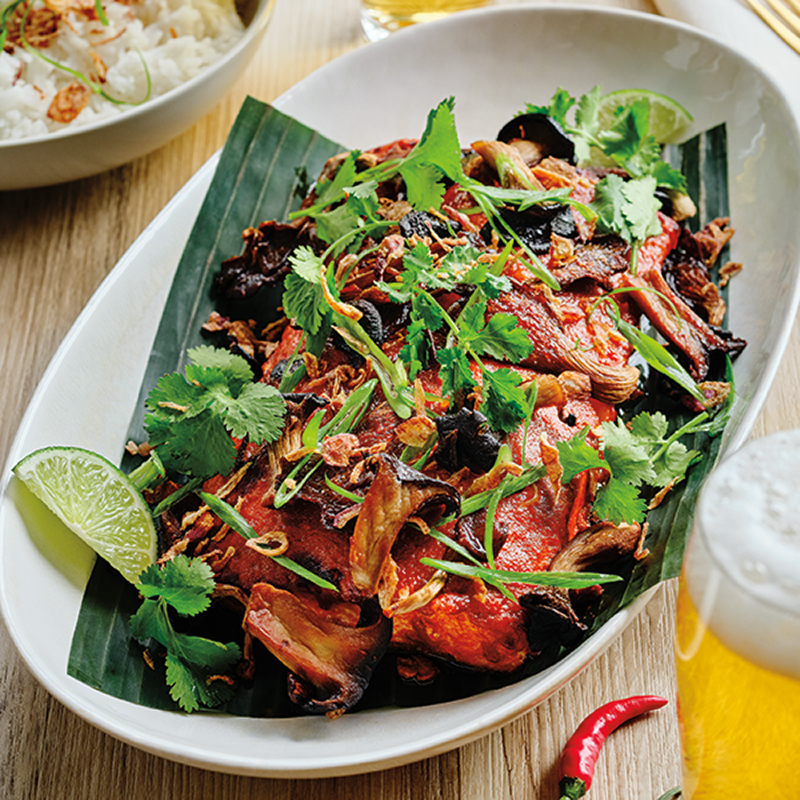 Red Curry Salmon with Oyster Mushrooms
Ingredients
Serves Serves 4
½ cup (125 ml) canned coconut cream*
½ cup (125 ml) Thai red curry paste
2 tbsp (30 ml) fish sauce
2 tsp (10 ml) oyster sauce
2 lbs (1 kg) salmon fillet, skin and pin bones removed
3 cups (750 ml) oyster mushrooms, trimmed and torn in half
2 tbsp (30 ml) vegetable oil
salt and pepper, to taste
handful cilantro leaves, for garnish
2 green onions, julienned, for garnish
1 handful crispy shallots, for garnish
* If you cannot find coconut cream, skim off cream from a can of full-fat coconut milk.
Instructions
In a medium bowl, mix together coconut cream, curry paste, sugar, fish sauce, oyster sauce and zest and juice of 1 lime.
Spread curry marinade over salmon fillet. Cover and marinate in refrigerator for at least 1 hour and up to overnight. Any extra marinade can be kept in refrigerator for up to 3 days, or frozen for up to 1 month.
Remove salmon from refrigerator and let come to room temperature. Preheat oven to 400 F (200 C).
Toss mushrooms in vegetable oil and season to taste with salt and pepper. Transfer to a parchment-lined baking sheet and roast for 10 to 15 minutes, or until golden brown and crisp. Remove from oven and set aside, reserving lined baking sheet for next step.
Reduce heat to 325 F (170 C). Place salmon on lined baking sheet and bake for 20 to 25 minutes, or until cooked through.
Cut remaining lime into wedges. Once salmon is cooked, transfer to a serving platter and garnish with roasted mushrooms, cilantro, green onion, crispy shallots and chili oil. Serve with rice.
Drink Pairings