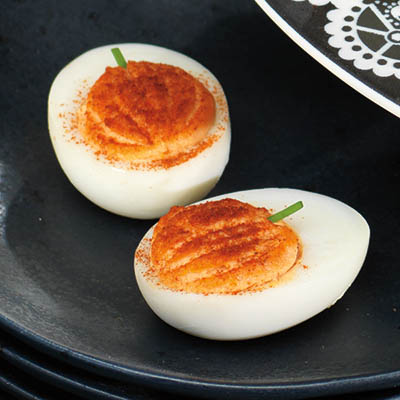 Ingredients
Serves 16 devilish eggs
8 large eggs, at room temperature
¼ cup (60 ml) chopped roasted red peppers
3 tbsp (45 ml) mayonnaise
¼ tsp (1 ml) sweet paprika, plus extra for garnish
salt and freshly ground pepper, to taste
3 to 5 fresh chives, cut into ½-in (1.25 cm) lengths
Instructions
Place eggs in a single layer in a large saucepan. Cover eggs with 2-in (5 cm) of water and bring to a boil over high heat, then cover, remove saucepan from heat, and let stand for 10 minutes. Drain eggs and place under cold running water until just cool enough to handle. Tap eggs to break shells and peel. Discard shells.
Slice eggs in half lengthwise, and carefully remove yolks.
In a food processor, combine yolks, red peppers, mayonnaise, chili sauce and paprika until smooth. Season to taste with salt and pepper.
Transfer mixture to a pastry bag fitted with a large round tip. Pipe about 1 tbsp (15 ml) round of filling into centre of each egg white. If desired, drag fork tines along filling to resemble a pumpkin and set a piece of chive diagonally into filling to resemble a stem. Sprinkle with paprika before transferring to a serving platter. Serve immediately or cover and refrigerate for up to 4 hours.
Drink Pairings