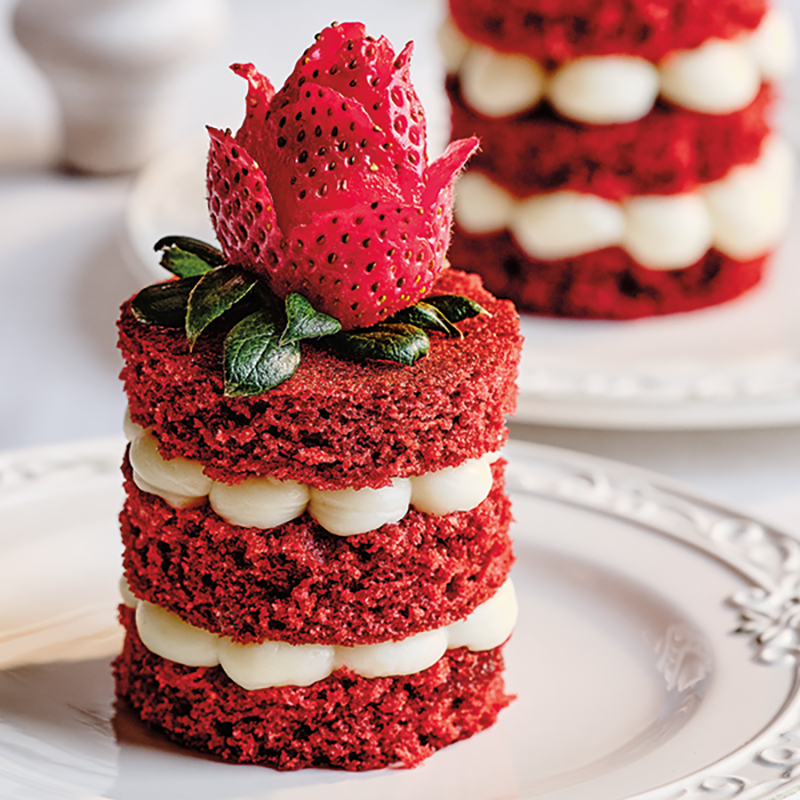 Red Velvet Stacks
Handheld spring desserts to offer at your next picnic or garden party.
Ingredients
Serves 12
5 cups (1.25 L) flour, spooned and levelled
2 tsp (10 ml) baking soda
¼ cup (60 ml) cocoa powder
2 cups (500 ml) buttermilk
2 cups (500 ml) vegetable oil
4 large eggs, room temperature
4 tsp (20 ml) white vinegar
4 tbsp (60 ml) red food colouring gel
1 tbsp (15 ml) + 2 tsp (10 ml) vanilla extract, divided
2 x 8 oz (500 g) brick cream cheese
strawberries, for garnish
Instructions
Preheat oven to 350 F (180 C). Grease and line 2 rimmed 12‑in x 17-in (30 cm x 43 cm) baking sheets with parchment paper.
In a large bowl, sift together flour, salt, sugar, baking soda and cocoa powder. In another large bowl, mix buttermilk, vegetable oil, eggs, white vinegar, red food colouring and 1 tbsp (15 ml) vanilla extract.
Sift and fold dry ingredients into wet ingredients, scraping down sides and bottom of bowl to fully incorporate batter.
Evenly pour batter into prepared baking sheets and bake for about 25 minutes, or until knife inserted in centre of cake comes out clean.
Cool on wire rack. Once cooled, run blunt knife along edges of pan to release cake, if necessary, and invert onto clean surface. Peel and discard parchment lining. Using a 2¼‑in (5.5 cm) round cutter, cut 18 cake circles from each sheet cake and store in airtight container until ready to use.
In large bowl, beat together cream cheese, butter, 2 tsp (10 ml) vanilla extract and salt until smooth. Mix in 1 cup (250 ml) icing sugar at a time until frosting is fully incorporated and holds together. Transfer frosting to large piping bag fitted with #12 round piping nozzle.
Pipe ½-in (1.25 cm) frosting mounds around outer edge and centre of 2 cake circles. Place 1 cake circle on top of the other and top with a third circle. Repeat this step to create 12 Red Velvet stacks.
Decorate the top of each stack with remaining frosting and garnish with strawberries, as desired.
Drink Pairings