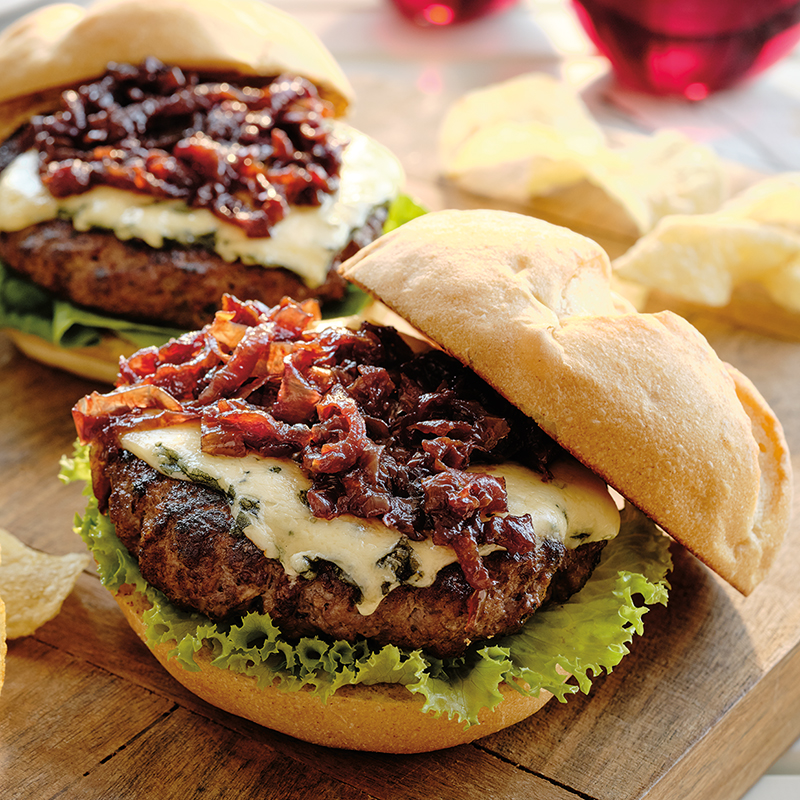 Ingredients
Serves 4
1 tbsp (15 ml) grapeseed oil, plus extra for grilling
4 tbsp (60 ml) unsalted butter, divided
2 large red onions, thinly sliced
¼ tsp (1 ml) + 1 tsp (5 ml) kosher salt, divided
¼ cup (60 ml) + 1½ cups (375 ml) red wine, divided
1 tbsp (15 ml) granulated sugar
1 tbsp (15 ml) light brown sugar
1½ lbs (750 g) ground lamb
1 tsp (5 ml) Worcestershire sauce
½ tsp (2.5 ml) freshly ground black pepper
4 oz (125 g) Cambozola or other mild blue cheese
Instructions
To make caramelized onions, in a small saucepan over medium heat, heat oil and 1 tbsp (15 ml) butter. Add onions and ¼ tsp (1 ml) salt and cook, stirring often, until reduced in volume and starting to brown, about 20 to 30 minutes. Increase heat to medium-high and stir in ¼ cup (60 ml) wine and granulated sugar. Cook, stirring often, until onions are a deep golden brown, about another 15 minutes. Remove from heat and set aside.
To make lamb burgers, start by making a red wine reduction. In a small saucepan, bring remaining 1½ cups (375 ml) red wine and brown sugar to a boil over high heat, stirring occasionally. Allow mixture to reduce by half, about 20 to 30 minutes. Remove saucepan from heat and stir in remaining 3 tbsp (45 ml) butter until melted. Set aside to cool.
Preheat grill to medium-high. Brush grill with grapeseed oil.
In a large bowl, use your hands to mix together lamb, Worcestershire sauce, remaining 1 tsp (5 ml) salt, pepper and ¼ cup (60 ml) wine reduction until well combined. Form into 4 equal-sized patties about 6-in (15 cm) in diameter. Grill until brown and grill-marked on bottom, about 4 minutes. Flip and brush with additional wine mixture. Continue grilling until cooked through, turning and brushing occasionally with wine mixture, about another 4 to 8 minutes more. Remove from grill and set aside, then grill buns, cut-side down, until lightly browned.
To serve, assemble burgers with lettuce, caramelized onions and Cambozola.
Drink Pairings