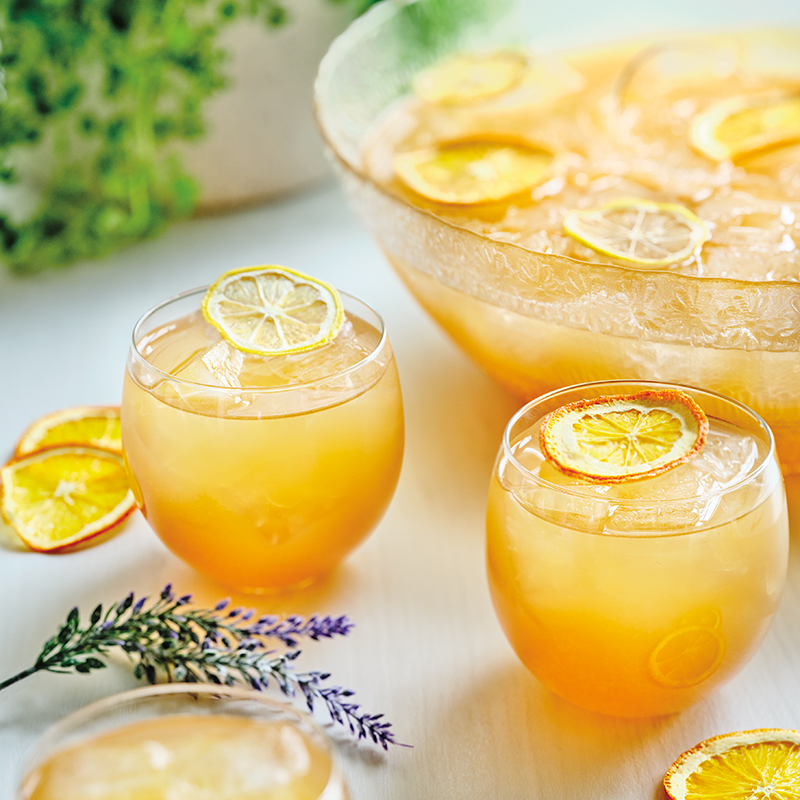 Resourceful Afternoon Punch
Ingredients
Serves Makes 10 x 5 oz (150 ml) cocktails
1½ cups (375 ml) Bearface 7-Year-Old Triple Oak Canadian Whisky
1 sprig foraged or local lavender
7½ oz (225 ml) Lemon-Orange Sherbet*, make ahead
30 oz (890 ml) Earl Grey Tea**
dehydrated lemon and orange wheels, for garnish***
Instructions
In a bowl, combine whisky with lavender and let sit for 15 minutes. Strain into a jug with a lid. Add Sherbet and tea, cover and refrigerate for 3 to 4 hours. Transfer to a punch bowl, add ice and garnish with lemon and orange wheels.
*To make Lemon-Orange Sherbet, first make an Oleo-Saccharum. Wash 5 organic lemons and 2 small organic oranges and dry thoroughly. Using a vegetable peeler, peel zest off citrus, avoiding white pith as much as possible. Reserve fruit to juice later. Combine peels with ½ cup (125 ml) granulated sugar in a zip-top bag, remove as much air as possible, then seal. Massage peels and sugar to extract oils from peels. Let sit at room temperature for 10 to 12 hours, occasionally massaging to extract more oils, until most of the sugar has dissolved. You now have Oleo-Saccharum. Juice citrus, then strain juice to remove pulp. Measure out ½ cup (125 ml) juice. Open bag and add juice to dissolve any remaining sugar, then strain to remove peels and transfer to a sealed container. You now have a Sherbet. Makes about 7½ oz (225 ml) and will keep for up to 2 weeks.
** To make Earl Grey Tea, consider re-steeping recently used tea bags to give them a second life. In a large jug or bowl, pour 30 oz (890 ml) boiling water over 4 earl grey tea bags and steep for 5 minutes. Remove tea bags and let cool to room temperature.
*** To make Dehydrated Lemon and Orange Wheels, slice 2 lemons and 2 oranges evenly into wheels, approximately ⅛-in (0.25 cm) thick. Place slices in a dehydrator at 135 F (57 C) for 8 hours, or place on a parchment-lined baking sheet and bake at lowest oven temperature (convection if possible) until completely dry, about 4 to 5 hours. Without convection, rotate sheets every 1 to 2 hours. Store in an airtight container; will keep indefinitely in a cool, dark place.
Drink Pairings