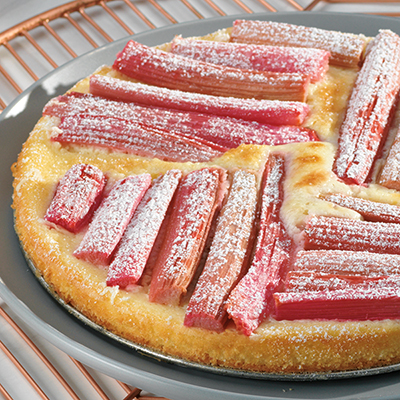 Ingredients
Serves 8
1 cup (250 ml) all-purpose flour, plus extra for dusting
1 tsp (5 ml) baking powder
1 cup (250 ml) sugar, plus extra for sprinkling
¼ cup (60 ml) melted butter, cooled
1 tsp (5 ml) vanilla extract
1 tbsp (15 ml) finely grated lemon zest
1 tbsp (15 ml) lemon juice
1 lb (500 g) rhubarb, halved lengthwise if thick, cut into 3-in (8 cm) pieces
Instructions
Preheat oven to 350 F (180 C).
Grease an 8-in (1.2 L) round springform pan and dust with flour. In a bowl, mix together flour, baking powder and salt. In a large mixing bowl, beat eggs and sugar until very pale and thick, about 2 minutes. In a small bowl, whisk melted butter, sour cream, rum, vanilla, lemon zest and juice.
Whisk butter mixture into egg mixture until just combined. Slowly fold into flour mixture until batter is smooth, then transfer to prepared pan. Chill 10 to 15 minutes to allow batter to set.
Gently place pieces of rhubarb on top of batter, trimming as needed. Sprinkle a bit of sugar over top. Bake 45 to 55 minutes, or until top is golden and browned around edges. Transfer to a wire rack and allow to cool in pan for 10 minutes. Then slide a knife around sides to loosen and unmould and slide onto rack to allow to cool completely.
Serve with a dollop of whipped cream.
Drink Pairings