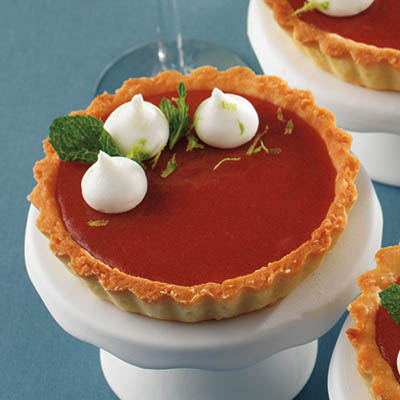 Ingredients
Serves 8
1½ cups (375 ml) all-purpose flour
⅓ cup (75 ml) icing sugar
½ cup (125 ml) finely grated, sweetened, desiccated coconut
½ cup (125 ml) chilled unsalted butter
1 cup (250 ml) granulated sugar, divided
2 cups (500 ml) finely chopped rhubarb
2 tbsp (30 ml) lime juice
¼ cup (60 ml) cold unsalted butter, cut into cubes
fresh mint leaves, for garnish
finely grated lime zest, optional, for garnish
2 large egg whites, at room temperature
⅛ tsp (0.5 ml) cream of tartar
½ cup (125 ml) granulated sugar
1 tsp (5 ml) freshly grated lime zest
Instructions
In food processor fitted with steel blade attachment pulse together flour, icing sugar, coconut, salt and butter until mixture is sandy in texture. Add egg and pulse until dough just comes together. Form into a ball, wrap in plastic wrap and refrigerate for at least 30 minutes.
Preheat oven to 400 F (200 C).
Divide chilled pastry into 8 equal portions. Working with 1 ball of dough at a time, roll out on a lightly floured work surface to ¼-in (0.5 cm) thickness. Line a 3-in (8 cm) fluted tart tin with removable base with pastry, pressing into corners. Trim excess pastry from rim and place on baking tray. Repeat with remaining dough. Freeze for 20 minutes. Line pastry shells with rounds of parchment paper and fill with pastry weights or dried beans. Bake for 10 minutes. Remove parchment paper and pastry weights before placing back in oven until golden brown, 7 minutes. Cool pastry shells in their tins on baking tray, on wire rack.
In a medium saucepan, stir together rhubarb, ¼ cup (60 ml) sugar and water over medium-high heat. Bring to a boil and reduce heat to medium. Simmer until rhubarb is soft, 8 minutes. Remove from heat and whisk in lime juice. Transfer hot mixture to a blender and blend until smooth.
In a medium saucepan, whisk together egg yolks with ¾ cup (175 ml) sugar. Slowly whisk warm rhubarb mixture into egg mixture. Place mixture back into saucepan and set over medium-low. Stirring constantly with a wooden spoon or heat resistant spatula, cook mixture until curd reaches 180 F (85 C), until thickened. Remove from heat and stir in butter until all is incorporated and smooth. Transfer curd to a bowl.
Dollop curd into tart shells, spreading out with an offset spatula or back of a spoon to create a level surface. Save any excess curd for another use. Place tarts on a baking tray and bake 10 minutes. Cool tarts in their tins on a wire rack to room temperature. Then chill in refrigerator for at least 1 hour.
When ready to serve, remove tarts from tins and place on serving plates or a large platter. Garnish each tart with Lime Meringue Dots, small mint leaves and lime zest.
To make LIME MERINGUE DOTS: Preheat oven to 215 F (105 C). Line baking tray with parchment paper and set aside.
In bowl of a stand mixer fitted with whisk attachment, whip egg whites, cream of tartar and pinch of salt at medium speed until soft peaks form, about 3 minutes. With mixer running, add sugar one tablespoon at a time, waiting until each is fully incorporated before adding more. Continue mixing until egg whites are glossy and hold stiff peaks, about 3 minutes. Fold in lime zest.
Transfer meringue to a piping bag with a small round tip and pipe ½ -in (1 cm) to ¾ -in (2 cm) dots on prepared baking tray. Bake until outside is crisp and inside is dry yet chewy, 60 minutes. Turn off oven, prop oven door open, and let meringues cool completely, about 2 hours. Meringues should feel dry and lift easily off the parchment paper. Use right away or store in an airtight container at room temperature for up to two days.
Drink Pairings