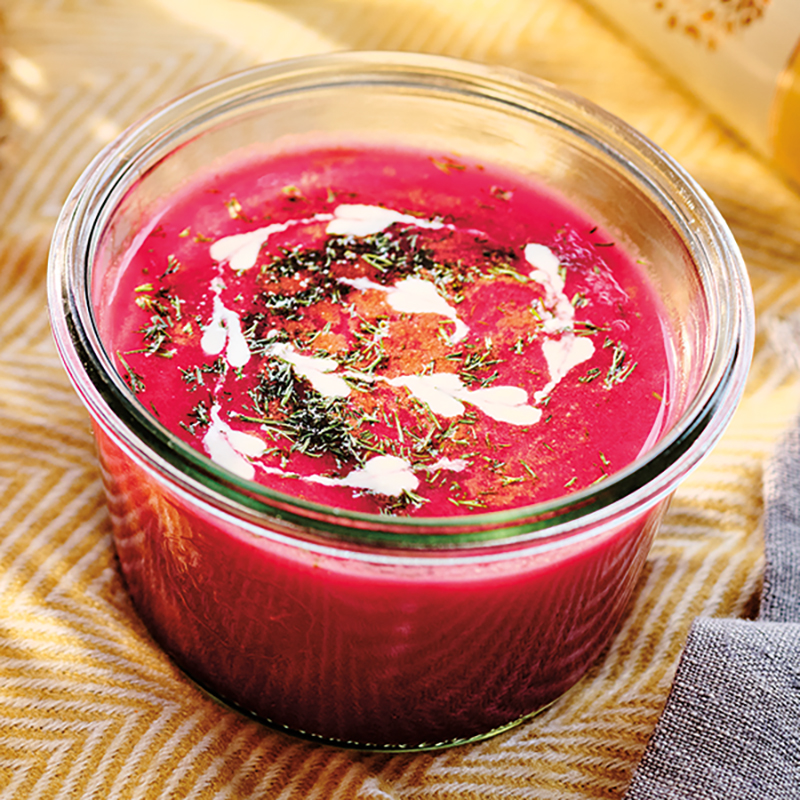 Rhubarb, Beet & Ginger Soup
This menu is perfect for backyard entertaining or packing up to take on the go!
Ingredients
Serves 6 to 8. Makes 1.5 litres.
1 large red onion, roughly chopped
1 tsp (5 ml) finely grated fresh ginger
2 tsp (10 ml) ground cumin
1 tsp (5 ml) ground ginger
1½ lbs (750 g) beets, peeled, chopped into small pieces
½ lb (250 g) rhubarb, trimmed, roughly chopped
4 cups (1 L) water, approximately
½ cup (125 ml) semi-sweet white wine
1½ tsp (7.5 ml) fine sea salt, or to taste
freshly ground black pepper, to taste
whipping cream, to serve (optional)
¼ cup (60 ml) fresh dill, finely chopped, to serve
Instructions
In a large heavy-bottomed saucepan, heat oil over medium heat. Add onion and cook until softened, about 10 minutes. Add garlic, fresh ginger, cumin and ground ginger and cook for 2 minutes. Add beets and rhubarb. Stir well to combine. Add water, wine, salt and pepper, to taste. Bring to a boil, partially cover and reduce heat to medium-low. Simmer mixture, stirring from time to time, until beets are meltingly tender, about 30 to 45 minutes. Remove from heat and allow to cool slightly.
Using a handheld blender, purée soup until completely smooth and season to taste. Add more water if soup is too thick.
Transfer soup to a portable serving container or thermos and pack into a picnic basket. To serve, divide soup between 6 to 8 small cups and top with a swirl of whipping cream and a sprinkling of dill.
Drink Pairings