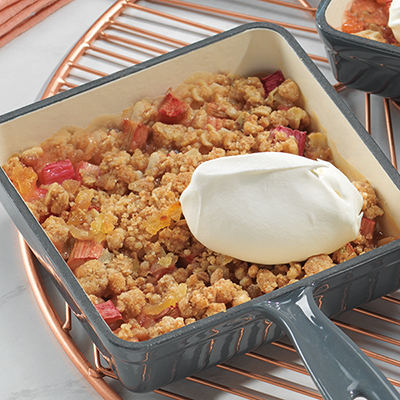 Rhubarb, Candied Ginger and White Chocolate Crisp
Ingredients
Serves 6 to 8
2 lbs (1 kg) rhubarb stalks, ends trimmed, cut into 1-in (2.5 cm) pieces
2 tbsp (30 ml) minced fresh ginger
½ cup (125 ml) granulated sugar
4 oz (125 g) white chocolate, coarsely chopped
1 cup (250 ml) coarsely chopped candied ginger, divided
1½ cups (375 ml) all-purpose flour
½ cup (125 ml) old-fashioned oats
½ cup (125 ml) brown sugar
1 tsp (5 ml) ground ginger
¾ cup (175 ml) melted butter
ice cream or whipped cream, to serve
Instructions
Preheat oven to 350 F (180 C).
In a large mixing bowl, toss together rhubarb and fresh ginger. Transfer to a greased 2 or 3-quart (2 L or 3 L) baking dish and sprinkle with sugar, white chocolate and ½ cup (125 ml) candied ginger.
In a medium bowl, combine flour, oats, brown sugar, cinnamon, ground ginger and remaining ½ cup (125 ml) candied ginger. Drizzle in melted butter and mix until crumbly and resembling coarse sand. Distribute evenly over rhubarb.
Bake until topping is golden brown and filling is bubbling and soft, about 1 hour to 1 hour, 15 minutes. Remove and cool on wire rack. Can be served warm or at room temperature with ice cream or whipped cream.
Drink Pairings