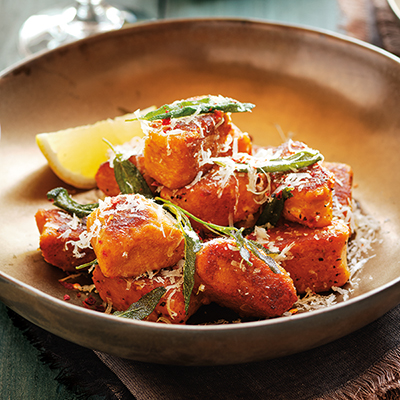 RICOTTA AND KABOCHA SQUASH GNOCCHI
Ingredients
Serves 6
4 lbs (2 kg) kabocha squash (about 2 medium squash)
sea salt and black pepper, to taste
1 cup (250 ml) ricotta cheese, drained of any excess water
½ cup (125 ml) finely grated Parmesan, plus extra to serve
2 cups (500 ml) all-purpose flour, plus extra for rolling
½ cup (125 ml) salted butter, divided
20 large fresh sage leaves
1 large pinch dried red chili flakes, plus extra to serve
Instructions
Preheat oven to 375 F (190 C). Halve squash and remove seeds and any stringy fibrous flesh. Brush olive oil over each half and season with salt and pepper. Place squash, cut side down, on a parchment-lined baking sheet. Roast for about 40 minutes, or until very tender and a knife inserted into squash meets no resistance. Remove from oven and allow to rest until cool enough to handle. Remove and discard skin and wrap cooked squash in a clean, dry tea towel. Squeeze to extract any liquid from squash; it needs to be very dry. Weigh out 1 lb (454 g) and reserve leftovers, if any, for another use.
In a large bowl, combine ricotta, Parmesan and egg yolks. Beat with a wooden spoon until well mixed. Season with salt and pepper. Mash squash until smooth and add to ricotta mixture, stirring until thoroughly combined.
Add 1¾ cups (425 ml) flour to mixture and stir until a shaggy dough forms. Turn dough out onto a lightly floured work surface and knead gently until it comes together. If dough is sticky, gradually work in remaining flour, a spoonful at a time. Cover and chill for at least 1 hour before rolling.
Bring a large saucepan of salted water to a boil. Remove dough from fridge and divide into 6 pieces, shaping them into rough rounds. On a floured surface, roll each into a 10-in (25 cm) rope, about ½-in (1.25 cm) in diameter. Cut rope into 1-in (2.5 cm) pieces, placing each on a well-floured baking sheet before proceeding with next dough round.
Cook gnocchi in 2 batches in boiling water. Once they float to surface, after about 3 to 4 minutes, cook an additional 3 to 4 minutes, about 6 to 7 minutes total. Test one to make sure gnocchi are fully cooked and not raw tasting. Drain and spread out in a single layer on a lightly oiled baking sheet.
Heat a large heavy-bottomed frying pan over medium heat. Add ¼ cup (60 ml) butter to pan and heat until sizzling. Add sage and fry, stirring continuously, until crisp, about 2 minutes. Remove sage and set aside. Add half the gnocchi to pan and sear each side, flipping them, for 4 to 5 minutes total, until crispy and golden brown on both sides, adjusting heat to medium-high if needed. Transfer to a plate and keep warm. Repeat with remaining ¼ cup (60 ml) butter and gnocchi. Add first batch of gnocchi back into pan with second batch. Toss well and squeeze ½ lemon over, add chili flakes and season with salt and pepper. Add a generous handful of freshly grated Parmesan and toss well to coat.
Transfer gnocchi to a large platter and top with fried sage. Serve immediately, family style, with plenty more Parmesan, chili flakes and lemon wedges.
Drink Pairings