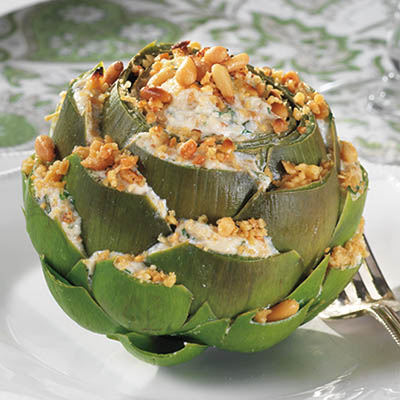 RICOTTA-STUFFED ARTICHOKES
Ingredients
Serves 6
½ cup (125 ml) fresh lemon juice
1 cup (250 ml) pine nuts, lightly toasted
1 lb (500 g) ricotta cheese
¼ cup (60 ml) extra-virgin olive oil, divided
¼ tsp (1 ml) freshly grated nutmeg
2 tbsp (30 ml) chopped fresh parsley
2 tbsp (30 ml) chopped fresh basil
2 tsp (10 ml) chopped fresh thyme
salt and freshly ground black pepper, to taste
½ cup (125 ml) dry white wine
Instructions
To prepare ARTICHOKES: Fill a large pot with 2 to 4-in (5 to 10 cm) water and place a steamer basket over top. Bring water to boil over high heat while preparing artichokes.
Add artichokes to steamer basket, cover and steam, adding more water as needed, until a knife can easily pierce through base of artichokes, about 15 minutes. Remove from pot and allow to cool upside down on wire rack set over a rimmed baking sheet or kitchen towel to catch excess liquid. Remove several centre leaves and, using a melon baller, scoop out fuzzy choke from centre of each artichoke and discard.
Preheat oven to 375 F (190 C).
Meanwhile, for STUFFING: Coarsely chop pine nuts in a food processor. Transfer 2 tbsp (30 ml) chopped pine nuts to a small bowl and set aside. Add ricotta, 1 tbsp (15 ml) olive oil, garlic and nutmeg to chopped pine nuts in food processor. Pulse until well combined.
Transfer ricotta mixture to a bowl and stir in parsley, basil and thyme. Season to taste with salt and pepper. Divide some ricotta mixture stuffing among centre of each artichoke before spooning remaining mixture between artichoke leaves. Pour remaining 3 tbsp (45 ml) olive oil and wine into 9 x 13-in (3.5 L) baking dish before arranging stuffed artichokes inside. Cover dish with foil and bake until artichokes are very tender and stuffing is slightly firm, about 30 to 40 minutes. Uncover and sprinkle with reserved chopped pine nuts and bake uncovered until filling starts to brown, another 10 to 15 minutes. Let stand 10 minutes before serving warm.
Drink Pairings