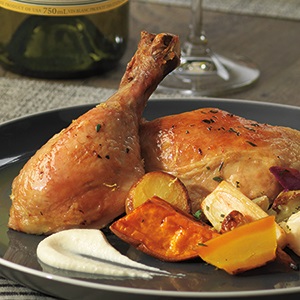 ROAST CHICKEN WITH ROOT VEGETABLES
Ingredients
Serves 4
1 small celeriac, peeled and cut into 2-in (5 cm) chunks
1 cup (250 ml) heavy cream
ROAST CHICKEN WITH ROOT VEGETABLES
2 parsnips, peeled and cut into 2-in (5 cm) chunks
2 carrots, washed and cut into 2-in (5 cm) chunks
1 yam, washed and cut into 2-in (5 cm) chunks
1 fennel bulb, washed and cut into 4 even- sized wedges
¼ cup (60 ml) extra-virgin olive oil, divided
1 tbsp (15 ml) salt, divided, plus extra if needed
1 tsp (5 ml) pepper, divided, plus extra if needed
3 to 4 lb (1.5 to 2 kg) free range chicken, rinsed and patted dry
3 fresh sage leaves, chopped
Instructions
Preheat oven to 375 F (190 C).
In a medium pot, place celeriac in cream with salt and cover. Cook over medium heat until celeriac is very tender. Purée with an immersion blender or in a blender until smooth.
In a large bowl, toss parsnips, carrots, yam, fennel and garlic with half of the olive oil and salt and pepper. Transfer to a 9 x 13-in (3.5 L) roasting pan and spread out to an even thickness.
Rub remaining olive oil, salt and pepper over chicken. Tuck rosemary, thyme and sage into the cavity of the chicken and place it on top of vegetables in roasting pan. Roast uncovered until the juices of the chicken run clear or internal temperature reaches 165 F (74 C) on a meat thermometer.
Remove pan from the oven. Using tongs, lift chicken from vegetables and place on a large, deep plate to rest for 10 minutes. Remove any excess fat from the vegetables using a spoon. Add lemon zest and juice to vegetables and toss to mix evenly. Add salt and pepper to taste. Lay a sheet of foil loosely over top and keep warm in a 300 F (150 C) oven.
To serve, carve chicken and serve with roasted vegetables and celeriac purée.
Drink Pairings