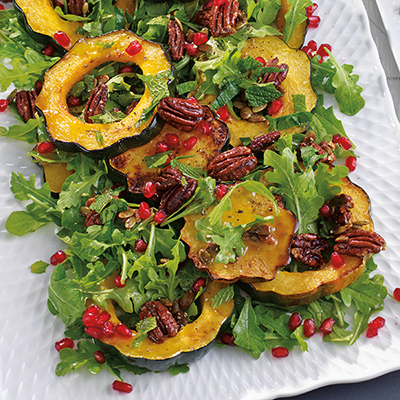 ROASTED ACORN SQUASH SALAD
Ingredients
Serves 8 to 10
2 medium acorn squash, cut into ½-in (1.25 cm) rings, seeds discarded
2 tbsp (30 ml) grapeseed oil
1 tsp (5 ml) ground cumin
salt and pepper, to taste
¼ cup (60 ml) raw pumpkin seeds
3 tbsp (45 ml) honey, divided
1 tbsp (15 ml) coconut sugar
½ tsp (2.5 ml) ground cinnamon
½ cup (125 ml) extra-virgin olive oil
3 tbsp (45 ml) white balsamic vinegar
1 tbsp (15 ml) unseasoned rice vinegar
3 cups (750 ml) packed baby arugula
3 tbsp (45 ml) pomegranate seeds
2 tbsp (30 ml) mint leaves, torn
2 tbsp (30 ml) flat leaf parsley, torn
Instructions
Place 2 rimmed baking trays in oven before preheating to 375 F (190 C).
In a large bowl, toss together acorn squash, grapeseed oil, cumin, salt and pepper.
Place squash in a single layer on warmed baking trays and bake, turning once about half way through cooking time, until tender and golden brown, about 15 to 20 minutes.
On another rimmed baking tray place pecans in a single layer and bake in oven for 4 minutes. Transfer to a bowl and toss with pumpkin seeds, 1 tbsp (15 ml) honey, coconut sugar, cayenne pepper and cinnamon. Return pecan mixture to baking tray and return to oven until golden brown and fragrant, about 5 to 8 minutes. Set aside.
In a medium bowl, whisk together olive oil, vinegars and remaining honey. Season to taste with salt and pepper.
To assemble salad, make a bed of arugula on a platter. Top with rounds of roasted squash, drizzle with dressing, to taste. Garnish with sweet and spicy pecan mixture, pomegranate seeds, mint and parsley. Serve with extra dressing on side.
Drink Pairings