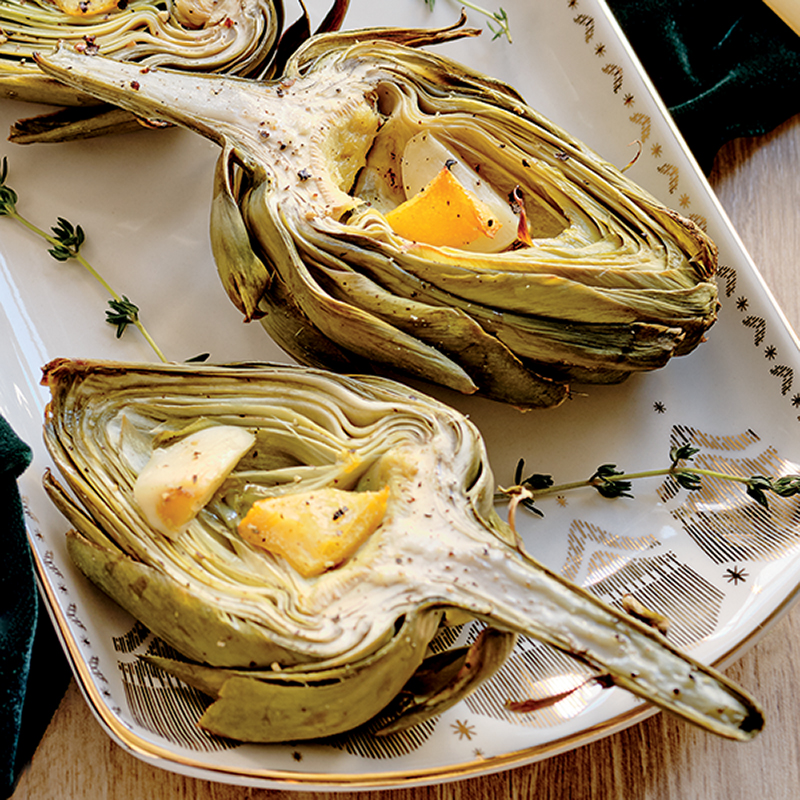 Roasted Artichokes served with Garlic Aioli
Ingredients
Serves 4 - 6
¾ cup (180 ml) best-quality mayonnaise
1 tsp (5 ml) Dijon mustard
2 tbsp (30 ml) freshly squeezed lemon juice
1 tbsp (15 ml) extra-virgin olive oil
1 medium garlic clove, finely grated
sea salt and freshly ground black pepper, to taste
4 large artichokes, rinsed and trimmed
8 whole garlic cloves, unpeeled
2 tbsp (30 ml) salted butter, cut into 8 cubes
2 tbsp (30 ml) extra-virgin olive oil
½ cup (125 ml) dry white wine
Instructions
To make Garlic Aioli, in a medium bowl, combine mayonnaise, mustard, lemon juice, olive oil and garlic. Mix well to combine and season with salt and pepper to taste. Transfer to a serving dish, cover and refrigerate until ready to serve.
To make artichokes, bring a large, deep saucepan of well-salted water to a boil. Add artichokes and lemon half and bring back to a moderate boil. Cover saucepan partially and continue cooking for 5 minutes. Add garlic and continue cooking for another 8 to 10 minutes, or until bases of artichokes can be pierced with point of a knife. Remove artichokes, lemon and garlic from water and set aside to cool.
Preheat oven to 400 F (200 C). Cut each artichoke in half lengthwise. Using a small spoon, remove and discard hairy chokes from centres and peel off and discard any loose leaves. Arrange artichokes cut side up in an ovenproof ceramic or glass baking dish; they should fit snugly. Slice lemon into 8 pieces. Peel garlic and place 1 clove and 1 lemon piece into centre of each artichoke half. Top each with a cube of butter, drizzle olive oil over everything and season well with salt and pepper. Pour wine into bottom of baking dish, cover tightly with foil and transfer to oven. Roast for 15 minutes, then remove foil and continue roasting for another 10 to 15 minutes, or until there is no liquid left in bottom of dish.
To serve, place artichokes cut side up on a platter. Dollop about 1 tbsp (15 ml) Garlic Aioli into centre of artichoke alongside garlic and lemon and serve remaining aioli on the side.
Drink Pairings