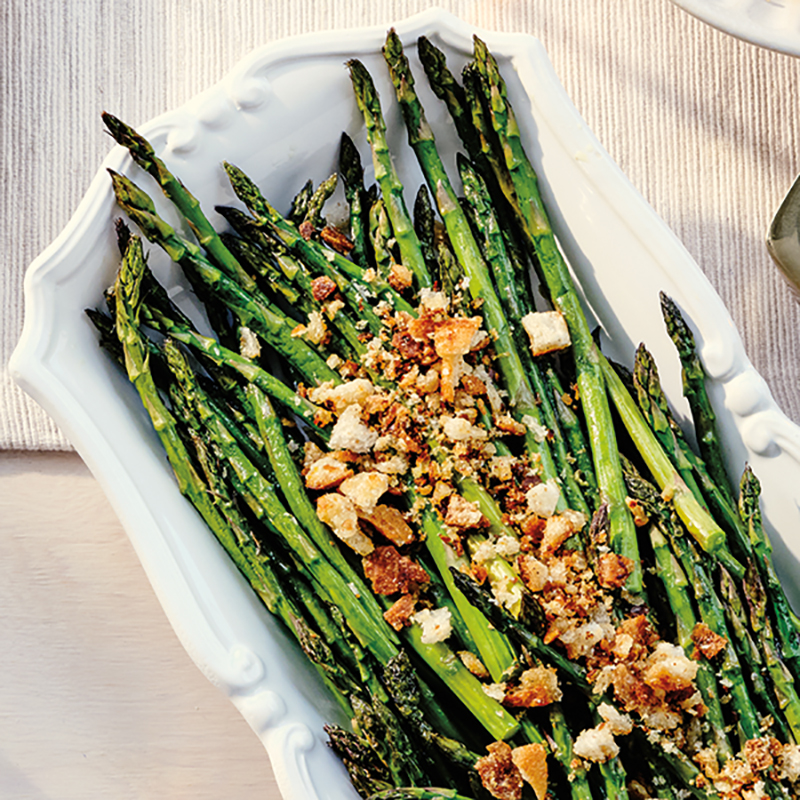 Roasted Asparagus with Sourdough Crumble
Light and fresh Easter.
Ingredients
Serves 4
2 bunches asparagus, bases trimmed
4 tbsp (60 ml) olive oil, divided
salt and pepper, to taste
3 slices sourdough bread, roughly chopped, about 2 cups (500 ml)
1 tbsp (15 ml) chopped parsley, leaves only
Instructions
Preheat oven to 400 F (200 C).
On a parchment-lined baking sheet, arrange trimmed asparagus evenly in a single layer. Drizzle 2 tbsp (30 ml) olive oil and season with salt and pepper. Place in oven for 10 to 15 minutes*, or until fork-tender. (Depending on width of asparagus, baking time may vary.)
In a large skillet, heat butter and remaining 2 tbsp (30 ml) olive oil on medium-high heat. Add garlic and sauté for 1 minute. Add breadcrumbs. Gently stir until golden brown and fragrant, about 5 minutes. Set aside.
To serve, arrange asparagus on a platter and top with toasted breadcrumbs, lemon zest and parsley.
Drink Pairings