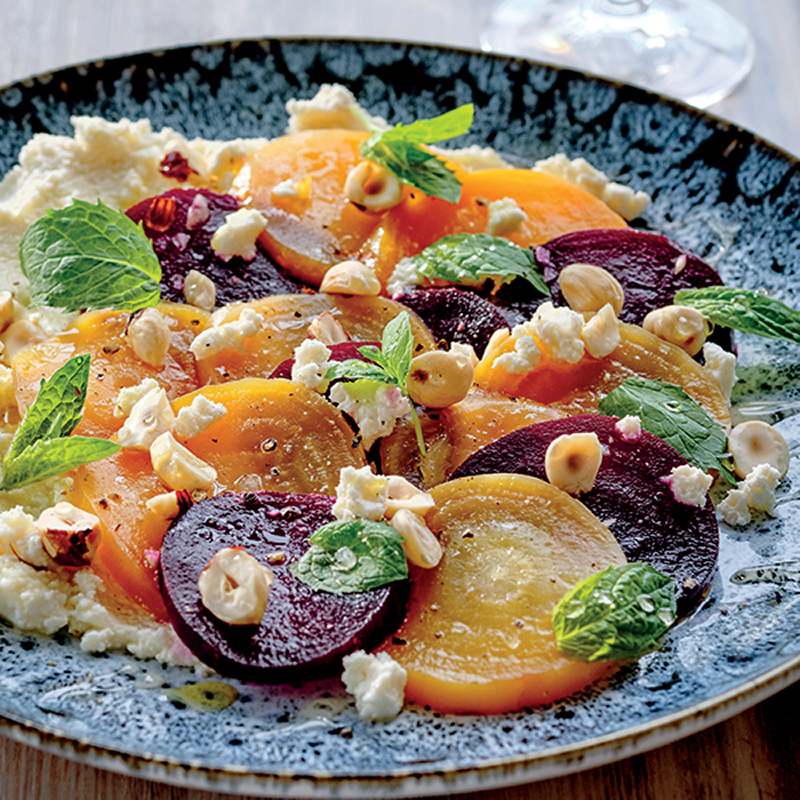 Roasted Beets with Whipped Feta, Hazelnuts & Mint
Ingredients
Serves 4
8 medium beets, mix of yellow and red
3 tbsp (45 ml) olive oil, divided
salt and pepper, to taste
1 cup (250 ml) crumbled feta, room temperature
¼ cup (60 ml) cream cheese, room temperature
¼ cup (60 ml) toasted hazelnuts
¼ cup (60 ml) mint leaves
Instructions
Preheat oven to 350 F (180 C). Tightly wrap all the beets together in foil with 1 tbsp (15 ml) olive oil and salt and pepper. Transfer to oven and bake for 45 minutes to 1 hour, or until fork-tender.
In a high-speed blender or food processor, combine feta, cream cheese, 1 tbsp (15 ml) olive oil, lemon zest and juice and honey. Whip on high until mixture is smooth.
Remove beets from oven and let cool until cool enough to handle. Peel beets and slice into ¼-in (0.5 cm) rounds. Spread whipped feta onto a serving plate and lay beets on top. Top with remaining 1 tbsp (15 ml) olive oil, hazelnuts and fresh mint.
Drink Pairings