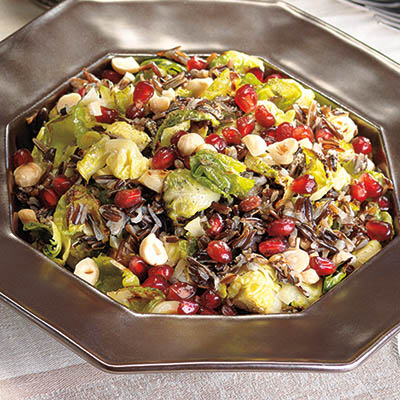 ROASTED BRUSSELS SPROUT SALAD
Ingredients
Serves 8
2 cups (500 ml) vegetable stock or water
2 lbs (1 kg) Brussels sprouts, trimmed
2 tbsp (30 ml) olive or grapeseed oil
salt and pepper, to taste
2 tbsp (30 ml) lime juice
1 tbsp (15 ml) apple cider vinegar
2 tbsp (30 ml) extra-virgin olive oil
1 tbsp (15 ml) maple syrup
1 tbsp (15 ml) hazelnut or almond butter
½ cup (125 ml) pomegranate seeds
½ cup (125 ml) hazelnuts, toasted, chopped
Instructions
Arrange oven racks in top and bottom third of oven before preheating to 350 F (180 C). Line 2 baking sheets with parchment paper and set aside.
In large saucepan, combine rice and stock over high heat. Bring to a boil, reduce heat, cover and simmer until some grains start to split, 40 minutes. Drain well and transfer to large bowl.
Trim Brussels sprouts and separate leaves. Place on prepared baking sheets, drizzle with 2 tbsp (30 ml) olive or grapeseed oil and toss to coat. Arrange in a single layer on baking sheets and season with a light sprinkle of salt and pepper. Bake until crispy and starting to turn golden, 15 to 20 minutes.
Whisk together lime juice, vinegar, extra-virgin olive oil, maple syrup and hazelnut butter until well incorporated. Season to taste with salt and pepper.
To serve, stir dressing into wild rice before folding in Brussels sprouts leaves. Transfer to a serving bowl and garnish with pomegranate seeds and hazelnuts. Best served warm or at room temperature.
Drink Pairings