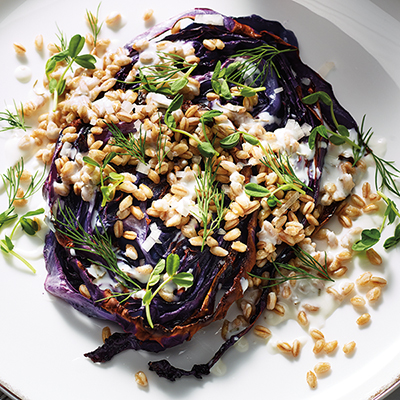 Ingredients
Serves 4
1 medium-sized head red cabbage, cut into 1-in (2.5 cm) slices (8 slices total)
1 tbsp (15 ml) extra-virgin olive oil
salt and pepper, to taste
1 tbsp (15 ml) crushed caraway seeds, divided
½ cup (125 ml) sour cream
1 tbsp (15 ml) lemon juice
1 tbsp (15 ml) horseradish
½ cup (125 ml) dry farro, cooked per package instructions
1 handful fresh dill, leaves picked into small pieces, for garnish
1 handful pea shoots, stems trimmed off, for garnish
Instructions
Preheat oven to 400 F (200 C)
Brush cabbage slices with olive oil and lay on a baking sheet. Season with salt, pepper and ½ tbsp (7 ml) caraway seeds. Roast for about 20 minutes, or until cabbage is cooked through and slightly crisp and browned on some edges.
While cabbage is roasting, make dressing. Mix together sour cream, lemon juice, horseradish and remaining ½ tbsp (7 ml) caraway seeds. Season to taste with salt and pepper.
Lay 2 slices of cabbage per plate, drizzle each serving with 2 tbsp (30 ml) dressing. Divide farro evenly between each serving and garnish with dill and pea shoots.
Drink Pairings