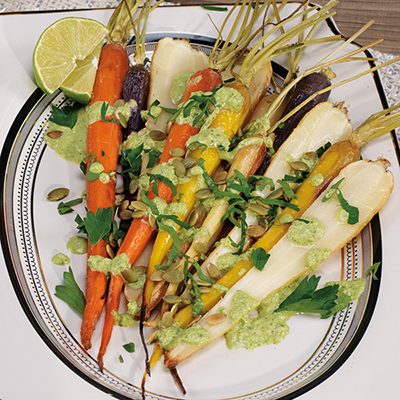 ROASTED CARROTS AND PARSNIPS WITH VERDE SAUCE
Ingredients
Serves 6 to 8
5 small parsnips, scrubbed, but not peeled
salt and pepper, to taste
1 bunch cilantro, leaves only
4 sprigs mint, leaves only
1 cup (250 ml) vegan sour cream (Available at specialty grocery stores)
½ lime, juice and zest only
¼ cup (60 ml) pumpkin seeds, toasted
Instructions
Preheat oven to 375 F (190 C).
If parsnips are large, cut in half lengthwise. Place parsnips and carrots on a large baking sheet, dress with oil and season with salt. Bake for 20 to 30 minutes, until soft and golden brown.
To make Verde Sauce, place jalapeño and green pepper on a separate baking sheet and bake alongside the parsnips and carrots for 15 minutes. In a blender, add cilantro, mint, garlic, sour cream, lime juice, lime zest and cooked peppers. Blend on high for a couple minutes. Add salt and pepper to taste.
Serve roasted carrots and parsnips on a platter with sauce on side or drizzled over. Garnish with pumpkin seeds.
Drink Pairings