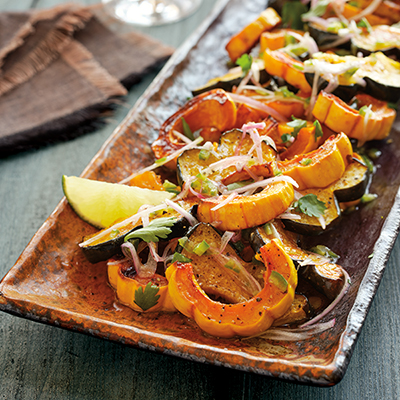 ROASTED DELICATA AND ACORN SQUASH SALAD
Ingredients
Serves 4
3 tbsp (45 ml) olive oil, plus more for brushing
1 medium Delicata squash, ends trimmed, halved and seeds removed
1 medium Acorn squash, stemmed, quartered lengthwise and seeds removed
1½ tsp (7 ml) fine sea salt
1 large shallot, peeled and thinly sliced lengthwise
3 tbsp (45 ml) finely minced fresh jalapeño, or to taste
3 tbsp (45 ml) freshly squeezed lime juice
½ cup (125 ml) coarsely chopped cilantro leaves
Instructions
Preheat oven to 425 F (220 C) and brush a large baking sheet with a little olive oil. Slice squash into ¾-in (2 cm) half moons. Transfer squash to sheet pan in a single layer. Brush tops with 3 tbsp (45 ml) olive oil and season with salt and pepper. Roast for about 10 minutes, or until just tender and undersides are evenly golden brown. Flip squash and cook for another 5 minutes.
Meanwhile, while squash is in oven, prepare dressing. In a small bowl, combine shallot, jalapeño, lime juice and a pinch of salt, and allow to macerate while squash roasts.
To serve, remove squash from oven and transfer to a serving tray. Spoon dressing over squash and season with salt and pepper. Scatter cilantro leaves over and garnish with lime wedges. Serve while warm.
Drink Pairings