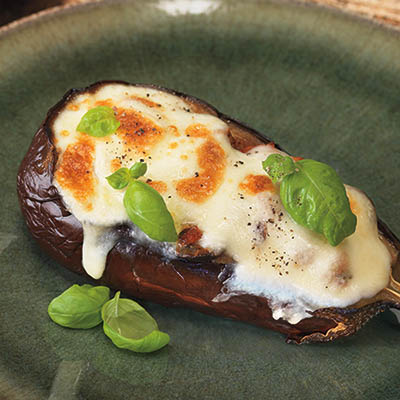 Roasted Garlic Eggplant Lasagna
Ingredients
Serves 8
4 medium eggplants, each cut in half
5 tbsp (75 ml) olive oil, divided, plus extra
salt and pepper, to taste
4 oz (125 g) medium-width egg noodles
1 lb (500 ml) spicy chicken sausage, removed from casing
1 red bell pepper, seeded and chopped
1 cup (250 ml) sliced crimini mushrooms
1 tbsp (15 ml) chopped fresh thyme
28 oz (796 ml) can diced tomatoes
1 tbsp (15 ml) chopped fresh oregano
1 tbsp (15 ml) chopped fresh basil, plus extra
1 pinch crushed red pepper flakes
⅓ cup (75 ml) finely grated Parmesan
8 oz (250 g) fresh mozzarella balls, sliced
Instructions
Preheat oven to 425 F (220 C). Rub cut sides of eggplant with 3 tbsp (45 ml) oil before seasoning with salt and pepper. Place halves cut-side down on a baking sheet.
Chop off top ¼-in (0.5 cm) of garlic head. Pour 1 tbsp (15 ml) oil over top and cover with foil and wrap bulb in foil. Place on baking sheet with eggplant. Roast both for 20 to 25 minutes, or until garlic is golden brown and eggplant is soft. Keep oven on.
In a large saucepan of boiling salted water, cook egg noodles according to package directions. Rinse with cold water to cool, toss with drizzle of oil and set aside.
In a large frying pan, heat remaining 1 tbsp (15 ml) oil over medium heat. Add sausage and cook for 5 minutes, breaking apart into small pieces. Transfer cooked sausage to a bowl and set aside. Do not wipe out pan.
Return pan to medium heat and add onions. Cook, stirring occasionally, until lightly caramelized, 5 minutes. Stir in red pepper, mushrooms and thyme. Cook, stirring occasionally, until vegetables soften, 5 minutes. Add tomatoes, including juice, oregano, basil, reserved sausage and a pinch of salt and pepper. Bring sauce to a simmer and cook, 10 minutes, stirring occasionally.
Squeeze roasted garlic out of papery skin into small bowl and mash well with a fork. Stir in red pepper flakes and Parmesan.
Carefully cut out flesh of eggplant, leaving a shell with a ½-in (1 cm) border throughout. Roughly cut up flesh and mix with roasted garlic mixture and reserved noodles.
Place eggplant shells in a large roasting pan. Divide noodle mixture among shells before covering with a layer of sauce. Top with slices of mozzarella and roast filled shells until cheese has melted and sauce is bubbling, 10 to 15 minutes. Serve warm, garnish with basil leaves.
Drink Pairings