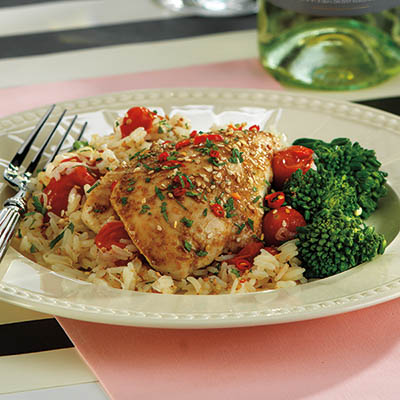 ROASTED LEMON CHICKEN WITH SPICED TOMATO RICE
Ingredients
Serves 4
¼ cup (60 ml) fresh lemon juice
2 tbsp (30 ml) Za'atar Spice
1 small Thai chili, chopped
1 tsp (5 ml) sea salt, plus extra
4 x 6 oz (180 g)skinless, boneless chicken breasts
2 tbsp (30 ml) combination of finely minced cilantro and fresh mint, for garnish
1 thinly sliced Thai chili, for garnish
2 shallots, peeled and thinly sliced
2 large garlic cloves, smashed and minced
1½ cups (325 ml) jasmine rice
1 cup (250 ml) grape tomatoes
1 tbsp (15 ml) fish sauce
2 cups (500 ml) boiling chicken stock
cilantro and toasted sesame seeds, for garnish
Instructions
Combine lemon juice, Za'atar spice, olive oil, garlic, chilies, sugar and salt in a mini food processor. Whirl until emulsified. Place in a deep bowl. Add chicken and rotate a few times, to evenly coat. Marinate for up to 2 hours.
Preheat oven to 375 F (190 C). Line a baking dish with parchment paper large enough to hold chicken in a single layer.
Drain and place chicken in baking dish and bake, uncovered, for 30 minutes or until juices run clear and thermometer reads 160 F (70 C) when inserted in the thickest portion of the breast.
To serve, sprinkle chicken with minced fresh herbs, sliced chili and freshly ground black pepper. Serve on a bed of Spiced Tomato Rice with steamed broccoli, on the side.
To make SPICED TOMATO RICE: In a large saucepan, heat oil over mediumhigh heat. Add shallots and garlic and sauté for 2 minutes until soft. Do not brown. Add a splash of water, if necessary. Add chilies and rice and stir to coat. Stir in tomatoes and fish sauce. Add boiling stock and lemon. Bring to a boil. Reduce heat to low. Cover tightly and cook for 15 minutes.
Remove lid, and place a kitchen towel over top, replace lid and remove from heat. Let stand for 5 minutes to finish cooking rice.
Serve with Lemon Chicken and broccoli and garnish with cilantro and sesame seeds.
Drink Pairings