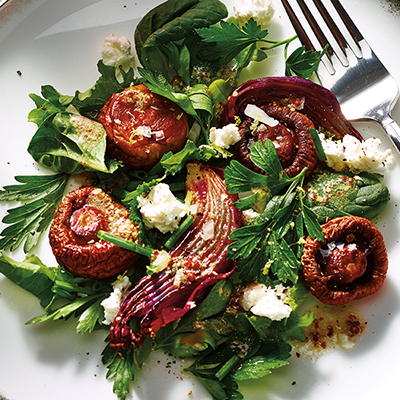 Ingredients
Serves 4
½ cup (125 ml) extra-virgin olive oil
¼ cup (60 ml) red wine vinegar
2 tbsp (30 ml) grainy mustard
1 tbsp (15 ml) finely diced shallots
salt and pepper, to taste
20 medium-size brown mushrooms, stems trimmed and cleaned
2 medium-size onions, peeled (leave stem intact) and cut each 6 wedges
4 cups (1 L) baby winter greens
½ bunch Italian parsley, leaves only
½ cup (125 ml) crumbled goat's cheese
Instructions
Preheat oven to 400 F (200 C).
In a bowl, whisk olive oil, vinegar, mustard and shallots until combined. Season to taste with salt and pepper.
Toss ⅓ cup (75 ml) of dressing with mushrooms and onions, then spread on a baking sheet. Roast for 15 to 20 minutes, or until mushrooms and onions are cooked through and slightly browned. Let cool slightly.
Divide winter greens evenly between 4 plates. Place 5 mushrooms and 3 pieces of onion on each plate. Sprinkle parsley and goat's cheese evenly between each plate and drizzle with remaining dressing.
Drink Pairings