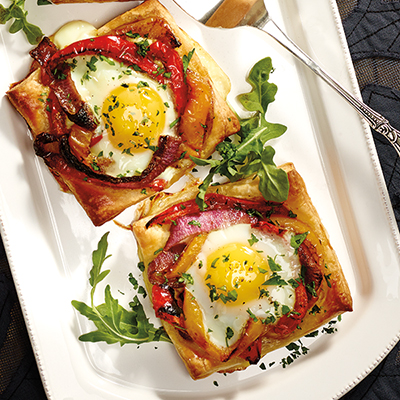 ROASTED PEPPER AND EGG GALETTES
Ingredients
Serves 6
2 large red peppers, seeded and cut into ½-in (1.25 cm) strips
1 large yellow pepper, seeded and cut into ½-in (1.25 cm) strips
½ large red onion, cut into ½-in (1.25 cm) strips
½ tsp (2.5 ml) dried thyme
1 tsp (5 ml) ground coriander
1 tsp (5 ml) ground cumin
2 tbsp (30 ml) extra-virgin olive oil
salt and pepper, to taste
3 tbsp (45 ml) chopped flat-leaf parsley
3 tbsp (45 ml) whole milk Greek yogurt
Instructions
Preheat oven to 400 F (200 C).
In a large bowl, toss together red and yellow peppers, red onion, thyme, coriander, cumin, oil and a good pinch of salt and pepper. Spread out in a single layer on a baking sheet and roast until softened but not charred, about 30 to 35 minutes, stirring once halfway through cooking time. Vegetables should be soft but not charred. Remove vegetables from oven and mix in half the parsley. Increase oven temperature to 425 F (220 C).
On a lightly floured work surface roll puff pastry into a 12-in x 8-in (30 cm x 20 cm) rectangle before cutting into 6 equal squares about 4-in (10 cm) each. Prick squares of puff pastry with a fork and place them on a parchment-lined baking sheet.
In a small bowl, beat 1 egg until well combined. Brush each square of puff pastry with beaten egg. Spread ½ tbsp (7 ml) yogurt on each square leaving a ½-in (1.25 cm) border. Top yogurt with a spoonful of vegetable mixture. Create a well in centre of vegetables and bake galettes for 14 minutes. Crack an egg into each vegetable well and return galettes to oven until egg is cooked to desired doneness, about 5 to 7 minutes.
Sprinkle with additional salt and pepper along with remaining parsley. Serve immediately.
Drink Pairings