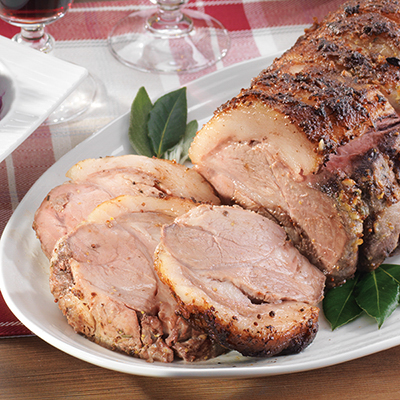 ROASTED PORK SHOULDER SERVED WITH GRAVY
Ingredients
Serves 6 to 8
2 large carrots, scrubbed, cut into 2-in (5 cm) pieces
2 stalks celery, scrubbed, cut into 2-in (5 cm) pieces
2 medium onions, quartered
1 head garlic, top cut off
1 cup (250 ml) white wine
1 cup (250 ml) mayonnaise
½ cup (125 ml) grainy mustard
3 tbsp (45 ml) sea salt, divided
2 tbsp (30 ml) pepper, divided
4 garlic cloves, roughly chopped
1 tbsp (15 ml) each, chopped rosemary, sage and thyme
1 tsp (5 ml) apple cider vinegar
5 lbs (2.27 kg) boneless pork shoulder roast (ask butcher to tie it)
2 cups (500 ml) chicken stock
3 tbsp (45 ml) all-purpose flour
Instructions
Preheat oven to 450 F (230 C).
In bottom of a large roasting pan, add carrots, celery, onions, garlic and wine.
To make crust mixture, in a small bowl combine mayonnaise, grainy mustard, 2 tbsp (30 ml) sea salt, 1 tbsp (15 ml) pepper, chopped garlic cloves, rosemary, sage, thyme, honey and apple cider vinegar.
Sprinkle and rub remaining sea salt and pepper on pork roast, then rub crust mixture all over pork. Place pork on top of vegetables in roasting pan and roast in oven for 30 to 45 minutes, or until pork roast is golden brown. Reduce heat to 300 F (148 C) and roast for another 3 to 4 hours, or until internal temperature reaches 125 F (52 C). Remove roast from oven and move to a platter to rest for 20 minutes.
While roast is resting, to make gravy, place roasting pan with vegetables on stove over medium heat. Add chicken stock and bring to a boil. Scrape bottom of pan with a rubber spatula to remove all browned bits. In a bowl, mix flour and water together, then whisk into pan. Let cook until thickened. Taste and adjust seasoning. Strain gravy through a fine mesh sieve, discard vegetables and keep warm in a pot over low heat. Whisk butter into gravy just before serving.
Slice pork and place on a platter. Pour any drippings from roast into gravy pot and mix. Serve roast with gravy and other desired sides.
Drink Pairings