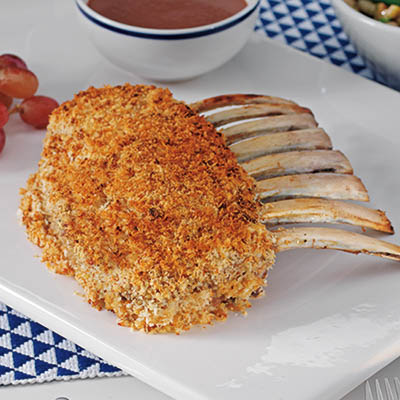 ROASTED RACK OF LAMB WITH GRAPE SAUCE
Ingredients
Serves 8
1 tbsp (15 ml) grapeseed oil
2 cups (500 ml) seedless red grapes
2 cups (500 ml) Tawny Port
2 cups (500 ml) low sodium chicken broth
1 tsp (5 ml) chopped fresh rosemary leaves
½ tsp (2 ml) chopped fresh thyme leaves
½ cups (125 ml) seedless red grapes
¼ cup (60 ml) chopped green olives
1 tbsp (15 ml) chopped fresh rosemary leaves
2 small garlic clove, minced
½ tsp (2 ml) salt, plus extra
¼ tsp (1 ml) ground pepper, plus extra
2 frenched racks of lamb, each with 8 bones (about 4 lbs (2 kg) total)
2½ cups (625 ml) Panko bread crumbs
¼ cup (40 ml) olive oil, divided
½ cup (125 ml) chicken stock
¼ cup (40 ml) Dijon mustard, divided
1½ cups (375 ml) dried Great Northern beans or dried cannellini beans
1 each, bay leaf and sprig fresh thyme
¾ lb (340 g) green beans, trimmed
¼ cup (60 ml) extra-virgin olive oil
¼ cup (60 ml) lemon juice
1 tbsp (15 ml) Dijon mustard
⅓ cup (75 ml) fresh Italian parsley leaves
1 tsp (5 ml) ground cumin
½ cup (125 ml) green olives, pitted and chopped
Instructions
To make GRAPE SAUCE: In a large saucepan, warm oil over medium heat. Add shallot and cook until softened. Add remaining ingredients. Increase heat and bring to a boil. Allow sauce to reduce to 2⅓ cups (575 ml). Remove from heat and allow to cool slightly before blending until smooth. Strain back into saucepan through a fine mesh sieve and set aside. Sauce may be refrigerated for 3 days.
To make ROASTED LAMB: In a food processor, pulse together grapes, olives, rosemary and garlic until well combined. Transfer to a large bowl. Mix in ground lamb, salt and pepper. Refrigerate until ready to use.
Season lamb generously with salt and pepper. In a frying pan, heat 1 tbsp (15 ml) oil over medium-high heat. Add one rack, meat side down, and sear until browned. Set on rimmed baking sheet, meat side up. Repeat with remaining rack. Refrigerate lamb allowing to cool completely. Add chicken stock to pan. Boil until reduced to glaze, scraping up any browned bits. Add to reserved grape sauce.
Preheat oven to 425 F (220 C). In a frying pan, combine breadcrumbs, 2 tbsp (30 ml) oil and 2 tbsp (30 ml) mustard. Stir over medium heat until beginning to colour. Set aside.
Spread each seared rack of lamb with 1 tbsp (15 ml) mustard. Press half of lamb sausage over top of each rack before pressing crumb mixture onto sausage layer. Roast in oven until a thermometer inserted into centre of meat registers 135 F (55 C), about 30 minutes for medium-rare. Transfer lamb to a cutting board and let rest 10 minutes. Pour any juices from baking sheet into sauce. Place sauce over medium heat and bring to a simmer. Reduce and thicken to about 1⅓ cups (325 ml).
Drink Pairings