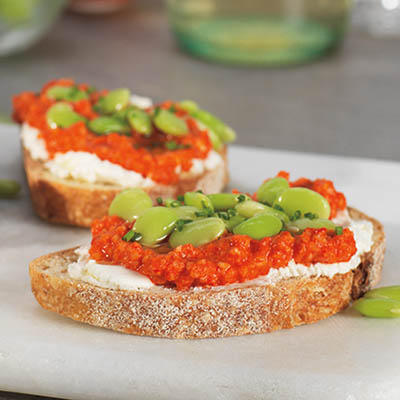 ROASTED RED PEPPER AND ALMOND SALSA WITH FAVA BEANS ON SOURDOUGH
Ingredients
Serves 4 open faced sandwiches
1 tbsp (15 ml) olive oil, plus extra for garnish
1 tbsp (15 ml) sherry vinegar
1 tsp (5 ml) liquid honey
⅓ cup (75 ml) blanched almonds
salt and freshly ground back pepper, to taste
4 slices sourdough bread, cut into ½-in (1.25 cm) slices and toasted
6 oz (180 g) soft goat's cheese
½ cup (125 ml) fresh or frozen fava beans, blanched, tough outer skins removed
1½ tbsp (22 ml) finely chopped fresh chives
Instructions
Preheat broiler.
Place bell peppers on baking sheet and broil, turning occasionally, until soft and skin is charred on all sides, about 20 minutes. Transfer to bowl and cover bowl with plastic wrap, allowing peppers to steam. Set aside until peppers have cooled to room temperature. Peel skins off, remove stems and seeds and cut each pepper in half.
In a small frying pan warm oil and garlic over medium heat until garlic turns golden. Remove from heat and transfer to food processor along with red pepper pieces, sherry vinegar, honey and blanched almonds. Process until a coarse paste forms. Season to taste with salt and pepper.
Spread goat's cheese on bread slices before topping with dollops of red pepper salsa and a sprinkle of fava beans. Season with salt and pepper before garnishing with chives and a drizzle of olive oil. Serve immediately.
Drink Pairings