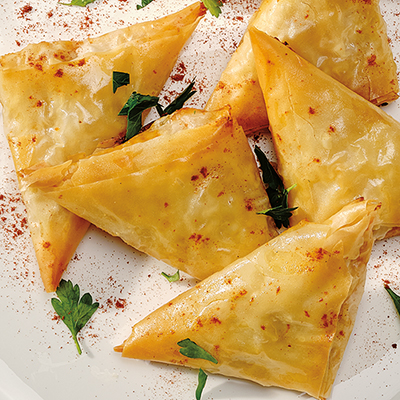 Roasted Red Pepper Phyllo Parcels
Ingredients
Serves 10 to 20
1 tbsp (15 ml) sunflower oil
1 x 16 oz (500 ml) jar roasted red peppers (or about 3½ large roasted red peppers)
½ cup (125 ml) sun-dried tomatoes
¾ cup (175 ml) crumbled feta
salt and pepper, to taste
1 box (10 sheets) phyllo pastry
½ cup (125 ml) unsalted butter, melted
Instructions
Preheat oven to 350 F (180 C). Line a baking sheet with parchment paper.
Heat oil in a skillet over medium heat. Add onion and garlic and sauté until translucent. Remove from heat and set aside to cool.
Drain roasted peppers and use a cheesecloth or press against a fine-mesh sieve to squeeze out any remaining liquid.
In a food processor, pulse onion, garlic, peppers and sun-dried tomatoes until pea-sized. Transfer to a large bowl and mix in crumbled feta. Season with salt and pepper (feta can be very salty, so be careful not to over-salt).
Lay a sheet of phyllo on a large flat surface. Using a pastry brush, brush entire sheet with melted butter. Lay a second sheet on top and repeat. Cut into five 3½-in (9.25 cm) vertical strips. Place a heaping tablespoonful of filling on bottom right end of 1 of the strips. Fold the bottom right corner of the phyllo up and over to the left edge of the strip to form a triangle. Now take the bottom point of the triangle you have made and fold the triangle up and over the left edge of the strip. Then take the bottom left corner and fold it up and over to the right edge of the strip. Repeat folding steps until the whole strip is used up, trimming excess pastry and sealing with melted butter if necessary. Repeat with remaining strips; you should get 5 parcels for every 2 sheets of phyllo. Refrigerate on a lined baking sheet until ready to serve, or freeze, covered, for up to 3 months.
To serve, brush tops with more melted butter and bake until golden brown, about 10 to 15 minutes. Cool for about 10 minutes before serving, or serve at room temperature if desired.
Drink Pairings