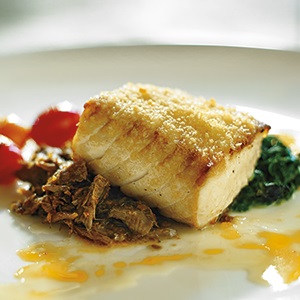 ROASTED SABLEFISH WITH CRUSTED HORSERADISH OVER LAMB RAGOUT
Ingredients
Serves 2
2 tbsp (30 ml) extra-virgin olive oil
salt and freshly ground black pepper, to taste
1 celery stalk, finely chopped
1 medium carrot, finely chopped
½ medium cooking onion, finely chopped
1 tsp (5 ml) chopped fresh sage
1 tsp (5 ml) chopped fresh oregano
1 tsp (5 ml) chopped fresh parsley
1 tbsp (15 ml) minced garlic
2 cups (500 ml) white wine
2 cups (500 ml) chicken or beef broth, plus extra if needed
1 hot chili pepper, seeded and finely chopped
2 x 5 to 6 oz (140 to 180 g) sablefish fillets
freshly grated horseradish, enough to coat the sablefish fillets
1 tbsp (15 ml) extra-virgin olive oil
Instructions
Preheat oven to 400 F (200 C).
To prepare LAMB RAGOUT, in a heavy-bottomed frying pan, heat oil over medium-high heat. Place lamb shank in pan and brown it on all sides. Using tongs, remove shank to a medium-sized roasting pan and season with salt and pepper.
Add remaining ragout ingredients to lamb shank and cover pan with foil. Poke a hole in the top. Braise for 30 minutes at 400 F (200 C), then remove foil from pan and reduce heat to 350 F (180 C). Braise for another 1.5 hours or until meat is falling from the bone. If meat is not tender, continue braising adding a little more broth if necessary.
Remove pan from oven. Set aside until meat is cool enough to handle. Then shred meat from bone to a separate bowl. Set aside and keep warm. Strain sauce into a small saucepan and cover to keep warm.
To prepare SABLEFISH, preheat oven to 275 F (140 C).
Evenly coat fillets with freshly grated horseradish.
Heat butter and oil in a heavy-bottomed, ovenproof frying pan and sear fillets on both sides until slightly browned, about a minute per side. Then place frying pan with sablefish into oven for 20 minutes.
To serve Lamb Ragout, place shredded lamb ragout down centre of two warmed dinner plates. Then put the sablefish on top. Drizzle with lamb sauce around each plate and serve. Serve with steamed spinach and roasted cherry tomatoes, if desired.
Drink Pairings