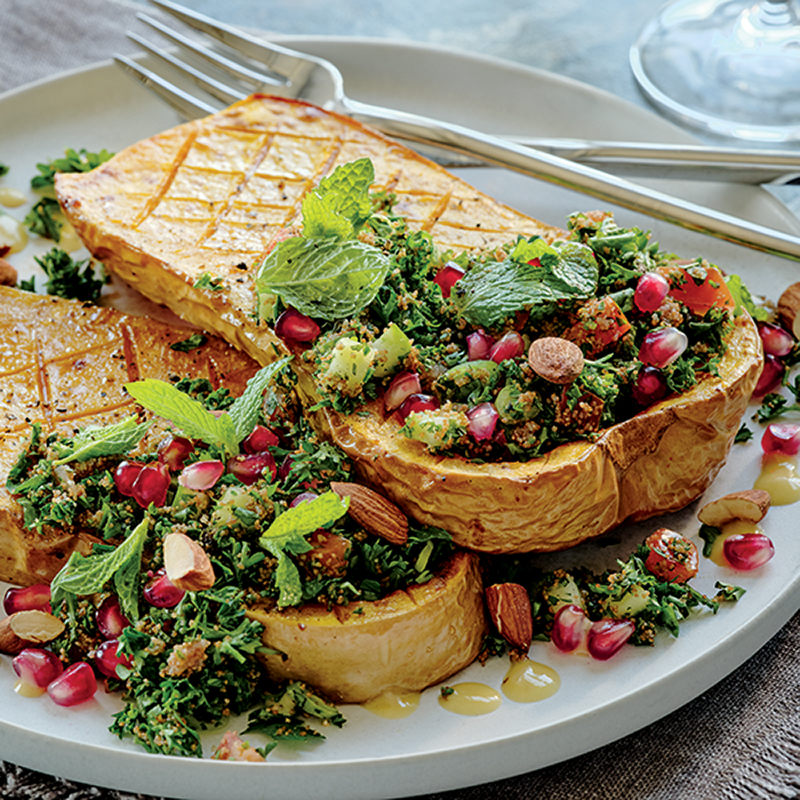 Roasted Squash Steaks served with Teff Tabbouleh
Ingredients
Serves 4
2 tbsp + ⅓ cup (30 + 75 ml) extra-virgin olive oil, divided
1 tbsp (15 ml) maple syrup
kosher salt and freshly ground black pepper, to taste
4 lb (2 kg) butternut squash, cut in half lengthwise
2 cups (500 ml) vegetable stock
½ cup (125 ml) whole grain teff
1 cup (250 ml) diced cucumber
1 cup (250 ml) diced tomato
3 medium bunches curly parsley
1 cup (250 ml) packed fresh mint leaves, plus extra for garnish
3 tbsp (45 ml) lemon juice, plus extra if needed
¼ cup (60 ml) thinly sliced green onion
¼ cup (60 ml) chopped roasted almonds, for garnish
pomegranate seeds, for garnish
Instructions
Preheat oven to 425 F (220 C). In a small bowl, whisk together 2 tbsp (30 ml) oil, maple syrup and a good pinch each of salt and pepper. Set aside.
Scoop out seeds from squash halves and discard. Cut off a thin slice from bottom of each squash half so that they can stand upright on cutting board. Cut each half lengthwise into three wide slabs, each about ¾-in (2 cm) thick, and discard rounded end piece. Place squash on a parchment-lined baking sheet. Using tip of a sharp knife, lightly score flesh of squash in a crisscross pattern. Brush reserved oil mixture over cut side of squash. Cover with tin foil and roast for 20 minutes. Remove foil and continue to roast until golden and soft, about another 20 to 30 minutes.
Meanwhile, make Teff Tabbouleh. In a small saucepan, bring vegetable stock to a boil over high heat. Stir in teff, cover and reduce heat to low. Simmer until liquid is absorbed, about 15 to 20 minutes. Remove saucepan from heat and place a clean cloth or paper towel between saucepan and lid to absorb excess moisture. Set aside for 10 minutes. Transfer teff to a fine mesh strainer and rinse under cold water. Let drain.
Meanwhile, stir together cucumber, tomato and a good pinch of salt in a medium bowl. Let rest for 10 minutes. Strain off and discard any juices that have accumulated. Set aside.
Cut off thick stems of parsley and discard (or reserve for making homemade stocks). Finely chop remaining leaves and tender stems along with mint leaves, either by hand or in a food processor, pulsing until finely chopped. You should end up with about 1 cup (250 ml) finely chopped parsley and mint. Transfer to a large bowl.
To make dressing, in a medium bowl, whisk together remaining ⅓ cup (75 ml) oil, lemon juice, garlic, tahini and a pinch of salt until well combined and homogeneous. Set aside.
When ready to serve, add teff, cucumbers and tomatoes, dressing and green onion to large bowl with parsley and mint. Gently toss together until well combined. Taste, and adjust seasoning as desired with extra salt or lemon juice.
Place squash on serving plates or platter, top with Teff Tabbouleh and garnish with a sprinkle of chopped almonds, pomegranate seeds and extra mint, if desired.
Drink Pairings