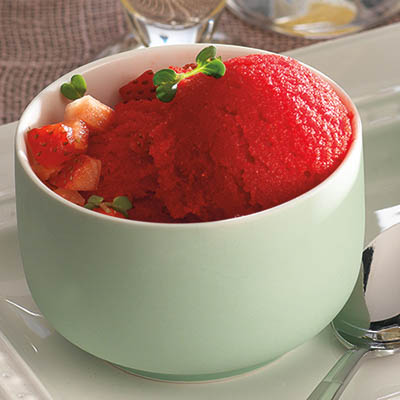 ROASTED STRAWBERRY SORBET
Ingredients
Serves 4 to 6
2½ lbs (750 g) fresh strawberries, washed, hulled and halved, if large
¼ cup (60 ml) granulated sugar
1 tbsp (15 ml) balsamic vinegar
freshly cracked black pepper, to taste
basil sprouts or young basil leaves, for garnish
Instructions
In a large bowl, combine strawberries and sugar and stir until well incorporated. Cover bowl with plastic wrap and set aside at room temperature for 1 hour.
Meanwhile, preheat oven to 375 F (190 C).
Pour strawberry mixture onto a rimmed baking sheet before drizzling with balsamic vinegar and seasoning with pepper. Roast until strawberries start to caramelize around edges, about 20 minutes. Transfer mixture to a blender and purée until smooth. Strain mixture through a sieve into a bowl, discarding strawberry seeds.
Refrigerate strawberry mixture until cold, at least 2 hours or overnight. Freeze in an ice cream maker according to manufacturer's instructions. Sorbet can be made up to 3 days ahead and stored in an airtight container in freezer until ready to use.
When ready to serve, divide Sorbet among serving bowls or glasses. Garnish with a few basil sprouts or young basil leaves and enjoy.
Drink Pairings