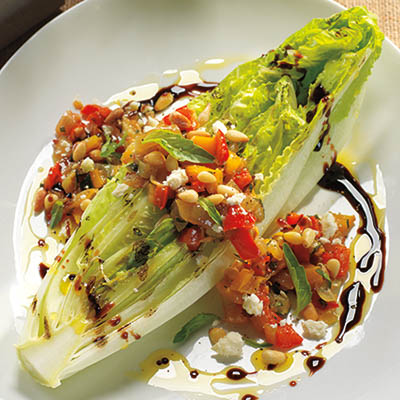 ROASTED VEGETABLE SALAD ON GRILLED ROMAINE HEARTS WITH WALNUT OIL
Ingredients
Serves 6
½ large sweet onion, diced
4 garlic cloves, peeled and minced
1 red bell pepper, seeded and diced
1 yellow bell pepper, seeded and diced
salt and freshly ground black pepper, to taste
2 tbsp (30 ml) walnut oil
1 tbsp (15 ml) fresh lemon juice
2 tsp (10 ml) liquid honey
2 tbsp (30 ml) chopped fresh basil
¼ tsp (1 ml) crushed red pepper flakes
⅓ cup (75 ml) crumbled feta
good-quality balsamic vinegar
salt and freshly ground black pepper
Instructions
Preheat oven to 400 F (200 C). Position oven rack on top level. Lightly oil a large baking sheet and set aside.
In a large bowl, combine onion, garlic, peppers and zucchini. Drizzle with 2 tbsp (30 ml) oil and sprinkle with a little salt and freshly ground black pepper. Toss to evenly coat and spread out on prepared baking sheet.
Bake on top rack for 20 to 30 minutes. Stir occasionally for even roasting. (Careful when opening oven as escaping steam from roasting vegetables can scald.)
When done as preferred, transfer vegetables to large bowl and stir in walnut oil, lemon juice, honey, basil and pepper flakes. Can be made a day ahead and refrigerated. Bring to room temperature before using.
Cut Romaine hearts in half, lengthwise. Brush cut sides with olive oil.
Preheat barbecue grill to medium-high. (Alternatively heat cast iron grill pan over medium-high heat and brush with oil.)
Place Romaine hearts cut-side down on grill and cook, turning once, until charred and slightly wilted, about 3 minutes depending on heat. Transfer cut-side up to a serving platter. Scatter Roasted Vegetable Salad over top, dividing evenly among Romaine hearts.
Sprinkle with crumbled feta and drizzle with extra-virgin olive oil, balsamic vinegar and generous grindings of salt and pepper.
Drink Pairings