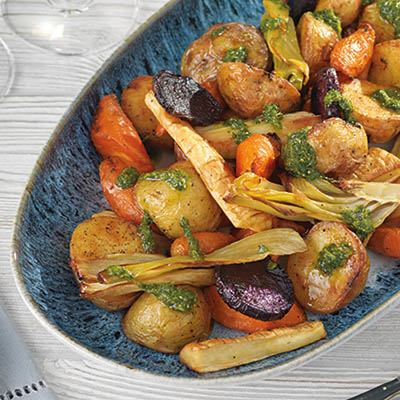 ROASTED VEGETABLES WITH PESTO
Ingredients
Serves 4 to 6
8 baby potatoes or new potatoes, halved
1 large parsnip, scrubbed
4 bunches carrots, tops removed and scrubbed
1 fennel bulb, top trimmed off, cut into 6 wedges
1 small red onion, peeled and cut into 6 wedges
2 tbsp (30 ml) extra-virgin olive oil
¼ tsp (1 ml) freshly ground pepper
2 cups (500 ml) basil leaves, stems discarded
1 tbsp (15 ml) parsley leaves, stems discarded
¼ cup (60 ml) grated Parmesan
2 tbsp (30 ml) toasted pine nuts
2 tbsp (30 ml) fresh lemon juice
1 pinch freshly ground pepper
1 cup (250 ml) good quality extra-virgin olive oil
Instructions
Preheat oven to 375 F (190 C).
Toss all ingredients, other than Pesto, in a bowl until all vegetables are coated in oil. Transfer vegetables to a roasting pan and roast for 45 minutes to an hour or until vegetables are tender and golden brown. Turn vegetables over halfway through cooking. Transfer to a serving platter and drizzle with Pesto.
To make PESTO: In a food processor or high-speed blender, add basil, parsley, Parmesan, pine nuts and garlic. Pulse several times to chop basil, scraping down sides occasionally.
Turn on food processor and add lemon juice, salt and pepper. Then slowly pour in oil, scraping sides occasionally, until all oil has been added and mixture is emulsified. Check seasoning and adjust if necessary. Note: This recipe makes more than is needed for the roasted vegetables, but it is difficult to make a small amount of pesto in a food processor or blender, as it will not blend. To keep Pesto for up to 1 week in refrigerator, place it in a jar and add more olive oil to cover pesto. Cover with a lid. Alternatively, it can be frozen in an ice cube tray. Use the best quality olive oil you can for this.
Drink Pairings