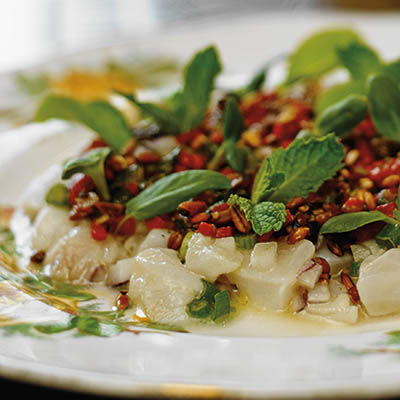 ROCKFISH CEVICHE WITH PIQUILLO RELISH AND PUFFED EINKORN
Ingredients
Serves 4
⅔ cup (150 ml) piquillo or red pimiento peppers
¼ cup (60 ml) pitted Kalamata olives
2 tbsp (30 ml) capers, about 40, drained
2 tbsp (30 ml) sherry vinegar
2 cups (500 ml) canola oil
¼ cup (60 ml) einkorn grains, also known as wheat berries
1 lb (500 g) rockfish fillets, skinned and boned
½ red onion, finely diced
1½ tsp (7 ml) kosher salt
3 green onions, trimmed and finely sliced
8 sprigs cilantro, stems discarded
8 sprigs mint, stems discarded
Instructions
To make RELISH: Place piquillo peppers, olives, capers, anchovies, basil and parsley in a food processor. Pulse mixture until it resembles fine dice. Add lemon zest and juice, sherry vinegar and a splash of olive oil, and pulse until it is incorporated. Transfer to a bowl and set aside.
To make PUFFED EINKORN: Heat oil to 350 F (180 C) in a deep, heavy-bottomed saucepan or deep fryer large enough to hold 2 cups (500 ml) oil with extra space to ensure it will not boil over when grains are added. Add and deep-fry einkorn until they have puffed up in size. Using a slotted spoon, remove from oil. Place on a plate lined with paper towels to absorb excess oil. Lightly season with salt. Set aside.
For CEVICHE: Cut raw rockfish into ½-in (1 cm) cubes. Place in a bowl with diced red onion, lime juice and salt. Fold together and refrigerate for 10 minutes, to "cook" fish in juice.
Add green onions, cilantro and mint. Drizzle with enough olive oil to lightly coat fish. Gently fold together.
To serve, plate Rockfish Ceviche with Piquillo Relish on top and a smattering of puffed einkorn grains.
Drink Pairings