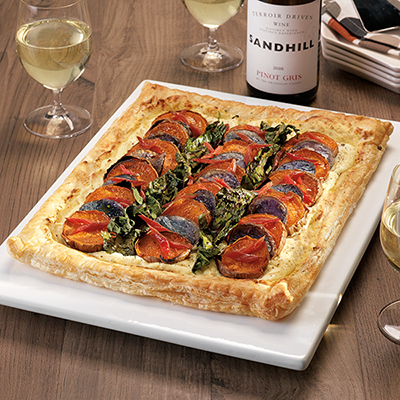 ROOT VEGETABLE AND CHARD TART
Ingredients
Serves 6
1 sheet puff pastry, to fit a 10 x 15-in (25 x 38 cm) rimmed baking sheet
½ medium onion, finely chopped
2 cups (500 ml) Swiss chard, cleaned and chopped into ½-in (1.25 cm) pieces
salt and pepper, to taste
2 cups (500 ml) whole milk ricotta cheese, well drained
½ cup (125 ml) grated Parmesan
½ medium yam, peeled and thinly sliced
1 medium beet, peeled and thinly sliced
2 small purple potatoes, peeled and thinly sliced
Instructions
Preheat oven to 350 F (180 C).
Pre-bake puff pastry on rimmed baking sheet until golden, about 12 to 15 minutes. Remove from oven and set aside, keep oven on.
In a large frying pan, heat olive oil and add onions. Cook for several minutes or until soft. Add Swiss chard and cook for about 5 minutes, until leaves are wilted and stems have softened. Season with salt and pepper. Remove from heat and set aside to cool.
In a bowl, combine ricotta, Parmesan and season with salt and pepper. Spread cheese mixture over puff pastry and bake for 5 minutes, then let cool.
Meanwhile, arrange sliced root vegetables onto a separate baking sheet lined with parchment paper and bake for 10 minutes. Remove and cool slightly. Arrange sliced vegetables and chard on top of tart. Bake for another 10 minutes until lightly browned, remove from oven, cut into 6 pieces and serve.
Drink Pairings