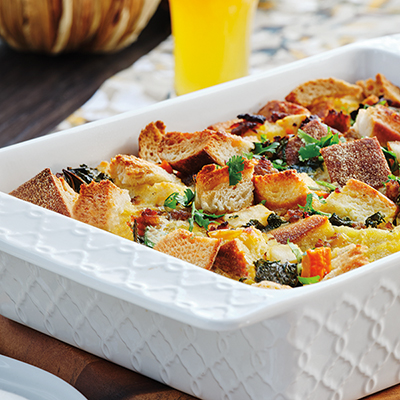 ROOT VEGETABLE AND SAUSAGE STRATA
Ingredients
Serves 4
2 spicy Italian sausages, casing removed
2 cups (500 ml) chopped chard, leaves only
1 cup (250 ml) cubed, roasted yam
1 cup (250 ml) cubed, roasted parsnip
1½ cups (375 ml) shredded Gruyère cheese
2 cups (500 ml) cubed sourdough, cut into 1-in (2.5 cm) cubes
½ cup (125 ml) whipping cream
salt and pepper, to taste
Instructions
Preheat oven to 350 F (180 C).
In a medium skillet over medium heat, melt butter. Add leek and sauté until tender, about 5 to 8 minutes. Remove from heat and transfer to a large bowl to cool. In the same skillet, cook sausage filling, using a wooden spoon to break it apart into small pieces as it cooks. Add chard and sauté until sausage is cooked through and chard has softened, about 10 minutes. Place mixture in bowl with leeks. Add yam, parsnip, Gruyère and sourdough cubes and mix to combine.
In a separate bowl, whisk together eggs, milk and cream. Season with salt and pepper. Pour over bread mixture and stir to combine. Pour into a 9 x 11-in (23 x 28 cm) casserole and bake for 40 to 45 minutes, or until strata is cooked through and centre no longer jiggles. Let rest for 5 minutes, then serve.
Drink Pairings