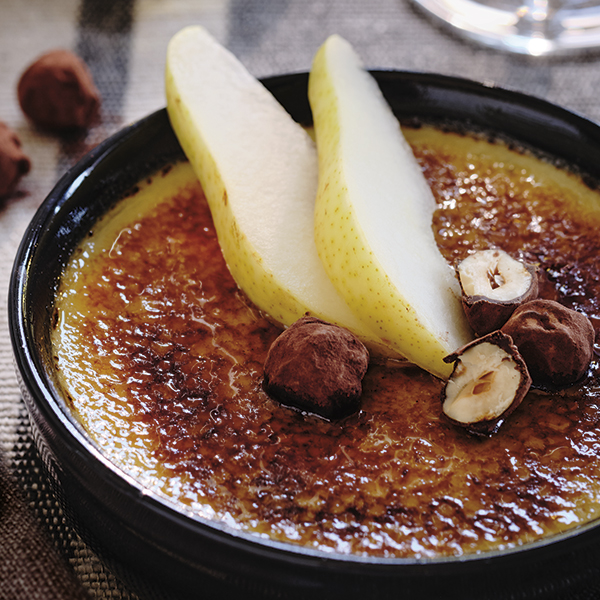 Roquefort Crème Brûlée with Pear & Chocolate Hazelnuts
Ingredients
Serves 4
½ cup (125 ml) chopped semi-sweet chocolate
½ cup (125 ml) toasted hazelnuts
2 tbsp (30 ml) raw cocoa powder
¼ cup (60 ml) granulated sugar, plus extra for topping
1½ cups (375 ml) whole milk
⅔ cup (150 ml) whipping cream
4 oz (125 g) Roquefort cheese, crumbled
Instructions
Start by making Chocolate Hazelnuts. Line a baking sheet with parchment paper and set aside.
Melt semi-sweet chocolate in a double boiler or a heatproof bowl that fits snugly over a saucepan of boiling water. Remove chocolate and set aside so it cools slightly but still remains liquid, about 15 minutes. Add hazelnuts and stir to coat. With a fork, one by one, remove hazelnuts from chocolate, letting excess chocolate fall through fork tines back into bowl. Transfer to lined baking sheet in a single layer. Transfer to refrigerator for 5 minutes to let chocolate harden.
Place cocoa powder in a medium bowl. Remove hazelnuts from refrigerator and transfer to bowl with cocoa powder. Toss until well coated, then transfer to a mesh sieve and gently shake off any excess powder. Place hazelnuts in an airtight container and set aside in a cool place or refrigerate until ready to use.
For Crème Brûlée, preheat oven to 350 F (180 C). In a medium bowl, whisk together ¼ cup (60 ml) sugar and egg yolks until thick and lightened in colour, about 2 minutes.
In a medium saucepan over medium heat, stir together milk and cream until it just comes to a boil. Remove saucepan from heat and whisk in blue cheese until dissolved. To egg mixture, add milk mixture a bit at a time, whisking constantly, until everything is well incorporated. Strain through a fine mesh sieve into a pitcher and set aside.
Place four 8.5 oz (255 ml) ramekins in a roasting pan and bring a kettle or large saucepan of water to a boil. Divide Crème Brûlée mixture between ramekins in roasting pan and place pan on a rack in oven. Pour enough hot water into roasting pan to come halfway up sides of ramekins. Lightly tent pan with aluminum foil and bake until just set, about 25 to 30 minutes. Remove ramekins from pan and set on a wire rack to cool to room temperature. Refrigerate for at least 1 hour or overnight.
When ready to serve, working with 1 ramekin at a time, evenly sift about 2 tsp (10 ml) granulated sugar over top of each custard. Place under broiler or use a small kitchen torch to caramelize sugar. Allow sugar to cool for 1 minute; meanwhile, slice pear thinly. Top each custard with pear slices and a few chocolate hazelnuts. Serve immediately.
Drink Pairings