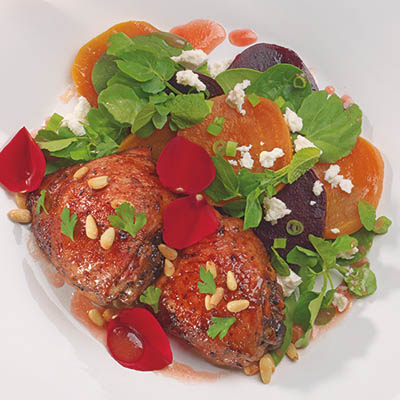 ROSE PETAL CHICKEN SERVED WITH HIBISCUS, BEET AND FETA SALAD
Ingredients
Serves 4
2 tsp (10 ml) ground cinnamon
2 tbsp (30 ml) lemon juice
2 tsp (10 ml) dried thyme
1 tsp (5 ml) ground cumin
2 tsp (10 ml) each, salt and pepper, plus extra for seasoning
¼ cup + 1 tbsp (60 ml + 15 ml) olive oil, divided
8 chicken thighs, skin-on, bone-in
½ tsp (2 ml) red pepper chili flakes
½ cup (125 ml) pomegranate molasses
⅓ cup (75 ml) chicken stock
2 tbsp (30 ml) chopped flat leaf parsley
3 tbsp (45 ml) toasted pine nuts
fresh edible rose petals, for garnish
HIBISCUS, BEET AND FETA SALAD:
1 cup + 6 tbsp (250 ml + 90 ml) water, divided
¾ cups (175 ml) granulated sugar
¼ cup (60 ml) dried hibiscus flowers (Available at specialty grocery stores)
⅓ cup + 2 tbsp (105 ml) extra-virgin olive oil, divided
salt and pepper, to taste
2 tsp (10 ml) Dijon mustard
2 tbsp (30 ml) red wine vinegar
4 cups (1 L) watercress, washed and dried
4 cups (1 L) baby spinach, washed and dried
4 oz (125 g) crumbled feta cheese
½ cup (125 ml) mint leaves, roughly chopped
1 green onion, thinly sliced into rounds
Instructions
1 Preheat oven to 350 F (180 C).
In a blender, combine 6 minced garlic cloves, cinnamon, lemon juice, thyme, cumin, salt and pepper, ¼ cup (60 ml) oil and rosewater. Place chicken in a baking dish and pour sauce over top. Cover baking dish with plastic wrap and refrigerate for at least 2 hours, up to 6 hours.
When ready to cook chicken, in a medium bowl, whisk together chili flakes, pomegranate molasses, chicken stock and remaining 1 minced garlic clove
Warm remaining 1 tbsp (15 ml) oil in a cast iron or ovenproof skillet over medium-high heat. Add chicken, skin side down, and cook until browned on both sides, about 8 minutes total. Remove chicken from pan and set aside. Pour out excess fat from pan before adding pomegranate molasses mixture. Bring to a boil, using a wooden spoon scrape bottom of pan to loosen any browned bits. Allow mixture to reduce by about half before adding chicken back to pan. Coat chicken in sauce and transfer pan to oven to cook chicken, 18 to 20 minutes. Remove from oven and baste chicken with pan sauce. Transfer to a serving platter and drizzle with any remaining pan juices. Garnish with parsley, pine nuts and rose petals. Serve alongside Hibiscus, Beet and Feta Salad.
To make HIBISCUS, BEET AND FETA SALAD: In a small saucepan, bring 1 cup (250 ml) water, sugar and dried hibiscus to a boil over high heat. Once sugar has dissolved, remove from heat and allow to cool to room temperature. Strain, discard hibiscus flowers and reserve syrup until ready to use. Syrup may be made ahead and refrigerated for up to 2 weeks in an airtight container
Preheat oven to 400 F (200 C).
Wash beets and trim tops to within 1-in (2.5 cm) of beet. Reserve beet tops for another use. Lay each beet on a sheet of tinfoil, drizzle each with 1 tsp (5 ml) oil and 1 tbsp (15 ml) water. Sprinkle with some salt and pepper and place 1 thyme branch next to each beet. Wrap each beet tightly before placing in a roasting pan or on a rimmed baking sheet. Roast until beets can easily be pierced with a fork, about 50 to 60 minutes. When cool enough to handle, but still warm, rub skins off beets using a paper towel.
In a medium bowl, whisk together remaining ⅓ cup (75 ml) oil, mustard, red wine vinegar and ¼ cup (60 ml) hibiscus syrup until well combined. Adjust seasoning to taste with salt and pepper. Cut beets into wedges and toss in dressing.
Scatter watercress and spinach over a large platter before topping with beet wedges, crumbled feta, mint and green onions. Drizzle with a couple tablespoons of dressing before serving. Serve any remaining dressing alongside.
Drink Pairings