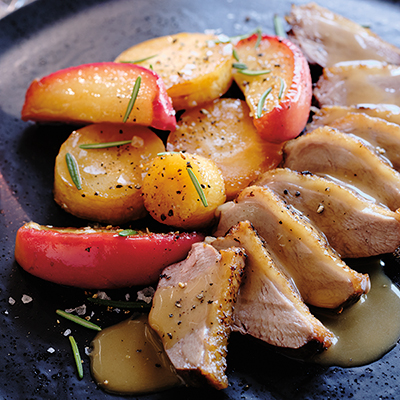 Rosemary Duck with Caramelized Apples & Parsnips
Ingredients
Serves 4
freshly ground black pepper, to taste
1¼ cups (310 ml) hard cider, divided
2 large rosemary sprigs, divided
1 cup (250 ml) chicken stock
1 lb (454 g) parsnips, cut into ½- to ¾-in (1.25 to 2 cm) rounds
7 tbsp (105 ml) cold unsalted butter, divided
2 tbsp (30 ml) cider vinegar
2 tbsp (30 ml) clover or light-coloured honey
1 cup + 2 tbsp (280 ml) water, divided
2 Pink Lady or Honeycrisp apples
1 tbsp (15 ml) granulated sugar
Instructions
Preheat oven to 350 F (180 C).
Place duck, skin-side up, on a cutting board. With a sharp knife, lightly score duck skin in a crisscross pattern, making sure not to cut into flesh. Generously season all over with salt and pepper. Place duck breasts, skin-side down, into a large ovenproof frying pan and cook over medium heat until skin is golden and some of the fat has rendered, about 5 to 10 minutes. Transfer duck to a plate. Pour rendered fat into a heatproof container, reserving for another use (delicious for roasting potatoes!), and return duck, skin-side up, to frying pan.
Place pan in oven and cook until an instant-read thermometer registers 125 F (52 C) in the thickest part of the meat, about 15 to 20 minutes. Transfer to a cutting board and let rest for at least 15 minutes. Reserve pan for next step. While duck is resting, prepare sauce and sides.
To make sauce, discard any excess fat from pan used to cook duck and place pan over medium-high heat. Add 1 cup (250 ml) hard cider and 1 rosemary sprig and cook until reduced by half, about 5 minutes. Stir in remaining ¼ cup (60 ml) cider and chicken stock and cook, stirring occasionally, until again reduced by half, about 5 minutes. Remove from heat and set aside.
To make caramelized parsnips, in a large skillet or frying pan, combine parsnips, 2 tbsp (30 ml) butter, vinegar, honey, 1 cup (250 ml) water and a good pinch of both salt and pepper. Bring to a hard simmer over medium-high heat, cover and let parsnips cook until crisp-tender, about 10 minutes. Uncover and continue to cook, turning often, until parsnips are lightly golden brown and liquid has reduced to a thick, sticky glaze, another 4 to 6 minutes. Add remaining 2 tbsp (30 ml) water to skillet and swirl to coat parsnips in glaze. Set aside but keep warm.
To make caramelized apples, core and cut each apple into 8 wedges. Heat 1 tbsp (15 ml) butter in a large frying pan over medium heat. Cook butter, stirring occasionally, until it just starts to turn a golden brown, about 2 to 4 minutes. Add sugar and stir until dissolved. Add apples, remaining rosemary sprig and a pinch of salt. Cook, stirring and turning occasionally, until apples are just tender when pierced with tip of a knife, about 3 to 5 minutes. Transfer to a plate and set aside.
When ready to serve, finish sauce. Bring to a gentle simmer over medium heat. Cut remaining ¼ cup (60 ml) butter into cubes. Remove pan from heat and gradually whisk in cold butter until completely incorporated. Season to taste with salt and pepper. Strain sauce through a fine sieve into a serving dish.
To serve, slice duck and arrange on four serving plates. Garnish with caramelized parsnips and apples and serve sauce alongside. Enjoy immediately.
Drink Pairings