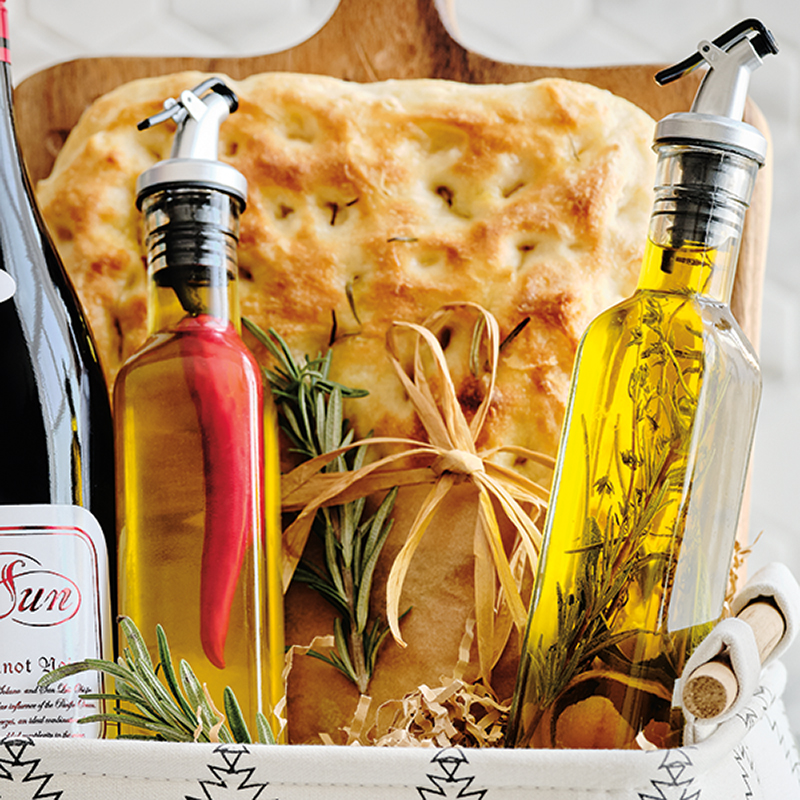 Rosemary Focaccia & Dipping Oils
How about a Do-It-Yourself gift box? Fill your gift boxes with some homemade delicious treats. It's a gift you can make, pack, pair and share!
Ingredients
Serves 1 loaf
2 cups (500 ml) warm water
1 x 8 g package instant yeast
7 tbsp (105 ml) olive oil, divided
1 tbsp (15 ml) butter, room temperature
1 to 2 sprigs rosemary, stems removed, about 2 tbsp (15 ml)
Maldon sea salt, to taste
Citrus Herb-Infused Oil, to serve, recipe follows
Instructions
In a large stainless-steel mixing bowl, whisk together honey and warm water. Add yeast and let sit for 3 minutes. Yeast should float and foam. If not, yeast is inactive and you will need to start again.
Add flour and salt to water and mix to form a shaggy dough. With floured hands, gently knead dough a few times to form a ball. Set aside.
Prepare another large stainless-steel bowl. Coat sides of bowl with 2 tbsp (30 ml) oil. Place dough inside bowl and rub top with 1 tbsp (15 ml) oil. Tightly cover top of bowl with plastic wrap and then with a tea towel. Place in a warm place for 4 hours to rise.
Preheat oven to 375 F (190 C) and prepare a 11-in x 9-in (28 x 23 cm) non-stick pan. Rub butter on surface and sides of pan.
Press dough into pan so it is evenly distributed. Cover again and allow to rise for 1 hour. Once risen, poke fingers onto entire surface of dough. Pour remaining 4 tbsp (60 ml) oil over focaccia. Add rosemary and salt. Bake for 20 minutes or until golden brown. If focaccia is still pale after 20 minutes, place under broil on high for 3 minutes or until golden. Rest for 5 minutes on a wire cooling rack and serve with infused oils.
To make Citrus Herb-Infused Oil, In a medium saucepan over medium heat, warm olive oil. Add orange zest. Allow to cool completely and transfer to a glass jar. Add herbs and store in a cool dark place for up to one month.
Drink Pairings