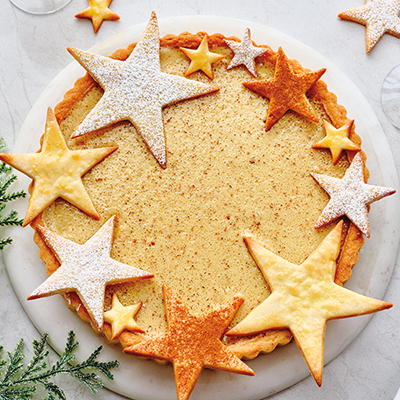 Ingredients
Serves 10
2¼ cups (560 ml) all-purpose flour
¾ cup (175 ml) icing sugar, plus extra for dusting
13 tbsp (195 ml) very cold unsalted butter, cut into pieces
1 large egg, lightly beaten
grapeseed oil or cooking spray, for greasing
1⅓ cups (325 ml) whipping cream
2 tsp (10 ml) vanilla extract
¼ tsp (1 ml) ground cinnamon, plus extra for dusting
½ tsp (2.5 ml) grated fresh nutmeg, plus extra for dusting
½ cup (125 ml) granulated sugar
3 tbsp (45 ml) spiced rum
Instructions
In a food processor fitted with steel blade attachment, pulse together flour, icing sugar and salt. Scatter butter over dry ingredients and pulse 8 to 10 times, until butter is coarsely cut in. Add egg and process in long pulses, about 10 seconds each, until dough comes together in large clumps. Turn dough out onto a clean surface and, very sparingly, knead dough just to incorporate any dry ingredients that may have escaped mixing. Form into a disc, wrap in plastic wrap and refrigerate for 2 hours.
Lightly grease a 9-in (23 cm) fluted tart pan with a removable bottom with grapeseed oil or cooking spray.
Roll out dough on a lightly floured sheet of parchment paper into a 16-in (41 cm) round, lifting and turning dough occasionally so it does not stick. Using paper as an aid, turn dough into prepared tart pan before peeling off paper. Press dough into edges and seal any cracks in dough. Trim overhang to ½-in (1.25 cm), reserving excess dough, then fold in overhang, doubling up sides. Pierce bottom of crust all over with fork. Freeze for at least 30 minutes or up to 4 hours.
Stack excess pastry on top of itself and re-roll to about ¼-in (0.5 cm) thick. Using star-shaped cookie cutters in different sizes, cut out as many stars as possible. Place stars on a parchment-lined baking sheet and freeze for at least 15 minutes or up to 4 hours.
Place oven rack in middle of oven and preheat to 375 F (190 C).
Butter shiny side of a piece of aluminum foil and place it, buttered-side down, tightly against frozen crust. Place tart pan on a baking sheet and bake crust for 20 minutes. Carefully remove foil. If crust has puffed up, press it down gently with back of a spoon. Bake crust 5 to 10 minutes longer, until firm but still pale. Transfer tart pan to a wire rack and cool crust to room temperature. Leave oven on.
While crust cools, place 1 egg yolk in a bowl and whisk until liquefied. Brush chilled pastry stars with egg yolk, then bake until firm and golden brown, about 10 to 20 minutes, depending on size of stars. Transfer to a wire rack to cool completely.
Reduce oven temperature to 300 F (150 C).
In a large saucepan, whisk together cream, milk, vanilla, cinnamon and nutmeg. Bring to a hard simmer over medium heat. Meanwhile, in a large, heatproof bowl, whisk together remaining 8 egg yolks and granulated sugar until lightly thickened and pale. While whisking, slowly pour hot cream mixture into egg mixture. Add rum and stir to combine. Transfer mixture to a large glass measuring cup and allow to sit for 5 minutes. Carefully skim off and discard any foam that forms on surface of custard. You should be left with about 2½ cups (625 ml).
Place cooled tart shell, still in pan, on a baking sheet and place in oven. Carefully pour custard into tart shell until it reaches top of pastry. Bake until custard is set around edges and just set in middle, about 30 to 40 minutes. Allow tart to cool to room temperature on a wire rack while still in pan.
When ready to serve, remove tart from tart pan, place on a serving plate and lightly dust surface with cinnamon and nutmeg, if desired. Decorate tart with pastry stars. Dust some with icing sugar, some with cinnamon and leave some plain. Tart is best served the day it is made.
Drink Pairings