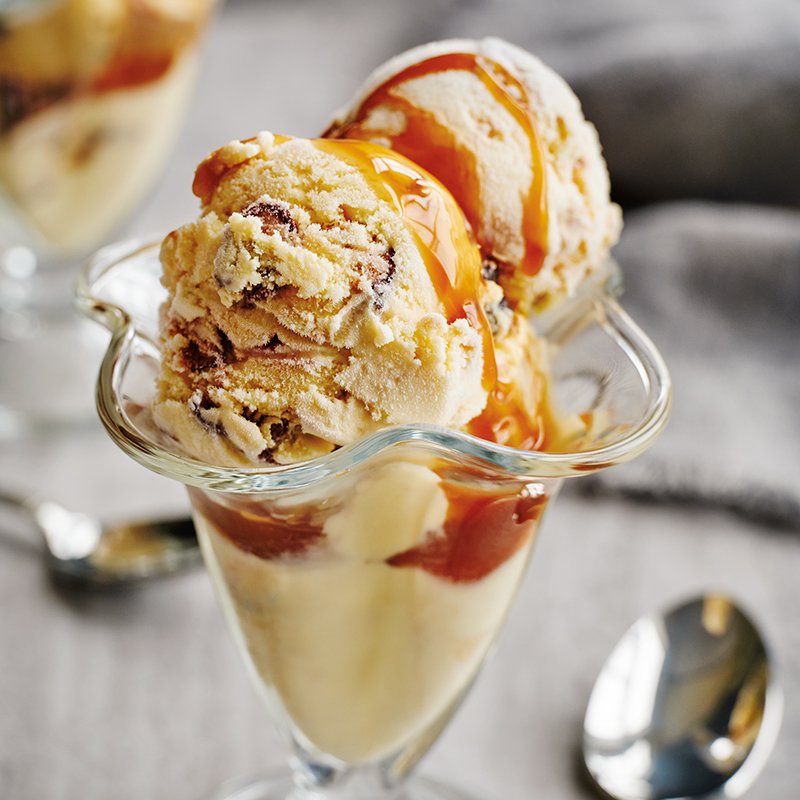 Rum Vanilla with Figs & Balsamic Caramel
Ingredients
Serves about 4 cups (1 L)
½ cup (125 ml) brown sugar
2 tbsp (30 ml) balsamic vinegar
½ cup (125 ml) whipping cream
1 tbsp (15 ml) unsalted butter
½ cup (125 ml) granulated sugar
1 cup (250 ml) whipping cream
1 tsp (5 ml) vanilla extract
½ cup (125 ml) chopped dried figs
Instructions
Prechill ice cream bowl for minimum 12 hours.
To make balsamic caramel, in a medium saucepan, heat brown sugar and balsamic vinegar over medium-high heat. Bring to a boil and cook for 3 minutes. Add whipping cream, butter and salt. Stir to combine and set aside to cool. Transfer to a jar and refrigerate until ready to use.
In a medium mixing bowl, mix together egg yolks and sugar. Set aside.
In a medium saucepan, over medium heat, warm milk. Do not allow to boil. Pour half the warm milk into egg‑yolk mixture. Mix to combine. Pour egg mixture back into saucepan with remaining warm milk. Cook for 8 minutes over medium heat, stirring constantly until thickened or reaching a temperature of 165 F (73 C). Pour ice cream base into an airtight container and refrigerate for up to 6 hours.
Once mixture is chilled, add whipping cream, vanilla and rum. Stir to combine and place in chilled ice cream machine. Once ice cream has set, transfer to an airtight freezer container and mix in chopped figs and half the balsamic caramel. Using a chopstick, gently swirl mixture, do not over-mix. Freeze overnight before serving. Serve with remaining balsamic caramel.
Drink Pairings