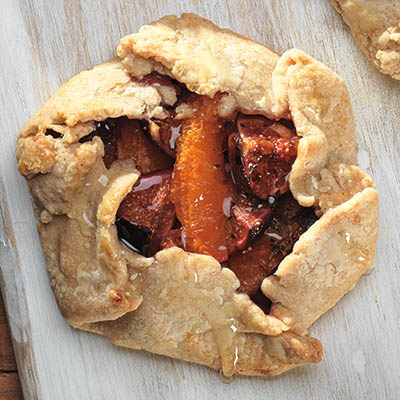 Ingredients
Serves 8
2½ cups (625 ml) all-purpose flour
½ cup (125 ml) cold unsalted butter, cubed
½ cup (125 ml) shortening, cubed
¼ cup (60 ml) ice water, approx.
3 tbsp (45 ml) sour cream
2 cups (500 ml) quartered small fresh figs, such as mission figs
1 cup (250 ml) fresh orange segments from about 2 naval oranges
¼ cup (60 ml) light brown sugar
2 tsp (10 ml) fresh thyme leaves, minced
5 to 6 tbsp (75 to 90 ml) fine dry bread or graham cracker crumbs
2 tbsp (30 ml) whipping cream
2 tbsp (30 ml) cold unsalted butter, finely diced
8 tsp (40 ml) liquid honey
Instructions
To make PASTRY: In a food processor with metal blade combine flour, cinnamon and salt. Pulse for a second to blend. Add butter and shortening and pulse until coarse crumbs. Combine water and sour cream in a measuring cup and whisk. Drizzle into processor while pulsing. Add just enough for pastry to become a shaggy mass. Turn out onto a lightly floured work surface and gather up pastry into a ball and press into a thick disk. Tightly seal in plastic wrap and refrigerate for 2 hours or overnight. Can be refrigerated for several days.
When ready to roll and bake, remove dough from refrigerator for about 10 minutes. Preheat oven to 375 F (190 C). Position racks in bottom and top third of oven. Line a couple of baking sheets with parchment paper. Turn dough out onto a clean work surface lightly dusted with flour. Divide into 8 even-sized pieces and flatten each into a small disc. Using a floured rolling pin, roll each disc out on a lightly floured surface into a 6½-in (16 cm) circle.
In a large bowl, combine FILLING ingredients except bread or graham cracker crumbs. Gently stir together to blend. Sprinkle centre of each pastry round with about 2 tsp (10 ml) of bread or graham cracker crumbs.
Divide filling evenly among each pastry round, mounding mixture in centre. Fold in edges of each round, pleating pastry as you go, creating a 1-in (2.5 cm) rim and leaving centres exposed. Transfer 4 filled crostatas to each prepared baking sheet. Brush rims of pastry with whipping cream and dot fillings with equal amounts of diced butter.
Bake in oven for 25 minutes and then alternate baking sheet positions and continue baking another 20 minutes or until pies are golden. Transfer sheets to racks to cool.
To serve, drizzle each crostata with 1 tsp (5 ml) honey. Best served the same day.
Drink Pairings