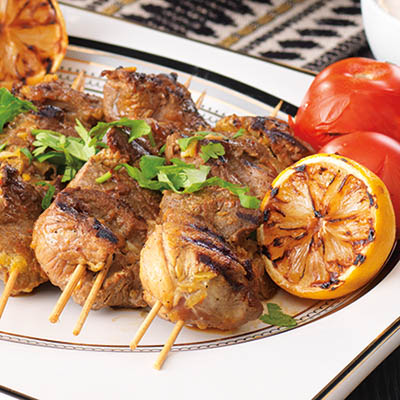 SAFFRON AND LEMON-MARINATED LAMB KEBABS
Ingredients
Serves 6
¼ cup (60 ml) lemon juice
2 large onions, peeled and coarsely grated
2 garlic cloves, finely minced
½ tsp (2 ml) dried chili flakes
½ tsp (2 ml) saffron threads
½ tsp (2 ml) coarse black pepper
1½ lbs (750 g) boneless lamb, cut into 2 x ½-in (5 x 1.25 cm) pieces
chopped cilantro, for garnish
1 cup (250 ml) plain full-fat yogurt
1 large garlic clove, finely minced
3 tbsp (45 ml) lime juice
½ tsp (2 ml) ground cumin
2 tbsp (30 ml) finely chopped cilantro
salt and freshly ground pepper to taste
Instructions
In a mixing bowl, combine olive oil, lemon juice, onions, garlic, chili flakes, saffron, salt and pepper. Place lamb pieces in a resealable plastic bag with the marinade, seal and shake to combine. Refrigerate overnight or up to 24 hours.
Preheat a barbecue to medium-high heat. Lightly oil grate. Alternatively, turn oven to broil, lightly oil a baking rack and place on a rimmed baking sheet.
Thread marinated lamb on thin, metal skewers or presoaked wooden skewers. Thread tomatoes and lemons on separate skewers. Brush lamb, tomato skewers and the cut part of lemon halves with marinade. Grill kebabs until lamb is cooked to desired doneness and tomatoes and lemons are hot and grill marked, about 5 minutes on each side. If broiling, place oven rack about 3-in (8 cm) from heat and broil to desired doneness. Sprinkle lamb kebabs with sumac and chopped cilantro. Serve with Spiced Yogurt Sauce (recipe follows) and grilled tomatoes and lemons on the side.
To make SPICED YOGURT SAUCE: Combine all ingredients in a mixing bowl. Cover and chill at least 1 hour before serving.
Drink Pairings