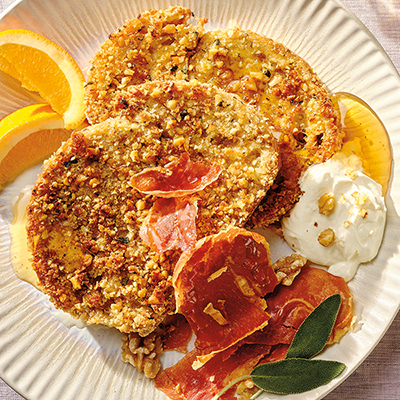 Sage and Walnut-Crusted French Toast with Orange-Scented Labneh and Honey
Ingredients
Serves 4
1 cup (250 ml) full-fat plain yogurt
1 large orange, zest only
1 tsp (5 ml) + 1 tbsp (15 ml) finely minced fresh sage (about 6 or 7 large leaves), divided
1 tsp (5 ml) + ⅓ cup (75 ml) pure liquid honey, divided, plus extra for garnish
1 tbsp (15 ml) granulated sugar
1 tsp (5 ml) ground cinnamon
¾ cup (175 ml) panko bread crumbs
½ cup (125 ml) ground walnuts
4 tbsp (60 ml) unsalted butter, divided
8 thick slices whole-grain sourdough, challah, or brioche
oven-crisped prosciutto, for serving (optional)
orange wedges and fresh sage leaves, for garnish
Instructions
To make labneh, line a small sieve with 2 layers of cheesecloth, muslin or linen and place over a small, deep bowl. Spoon in yogurt and pull edges of cheesecloth over top. Cover and refrigerate overnight to strain yogurt. The longer it strains, the firmer yogurt will become. Transfer to a glass container with a tight-fitting lid and stir in half the orange zest and 1 tsp (5 ml) sage. Drizzle with 1 tsp (5 ml) honey and refrigerate. Use within 1 week.
In a large bowl, whisk together eggs, milk, sugar and cinnamon. In another large shallow bowl, combine panko, walnuts, 1 tbsp (15 ml) sage and remaining orange zest. Set aside.
Preheat oven to 350 F (180 C) and place oven rack in centre of oven. Line a baking sheet with parchment paper. If not large enough to accommodate bread in a single layer, use 2 baking sheets. Whisk egg mixture again then transfer to a large shallow bowl.
To make French toast, melt 1 tbsp (15 ml) butter in a large skillet and swirl to coat bottom of pan. Dip 2 slices bread thoroughly in egg mixture, then dip into panko mixture to evenly coat. Fry over medium heat until golden on both sides, about 5 minutes. Don't worry if they're not cooked through as they will finish in oven. Transfer to baking sheet. Melt another 1 tbsp (15 ml) butter in skillet and repeat with remaining bread.
Bake in oven for about 12 minutes, flipping once, or until fully cooked in the centre and lightly crisped. If necessary, reduce oven temperature to 200 F (95 C) and cover with tinfoil for up to 20 minutes until ready to serve. Serve with generous dollops of orange-scented labneh, drizzles of honey and crisped prosciutto, if using. Garnish with orange wedges and fresh sage.
Drink Pairings