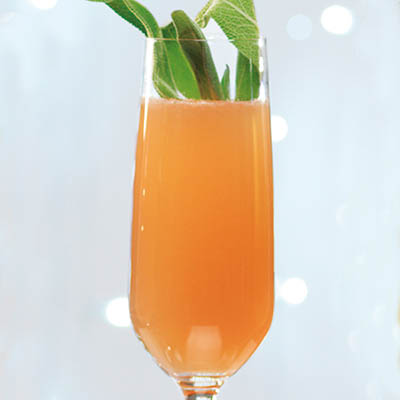 Ingredients
Serves 1
¾ oz (22 ml) Crown Royal Northern Harvest Rye
1 oz (30 ml) Sage Honey (make ahead, recipe follows)
½ oz (15 ml) freshly squeezed lemon juice, strained
2 oz (60 ml) freshly squeezed ruby grapefruit juice, strained
2 oz (60 ml) Chamdeville Brut
1 large sage sprig, for garnish
½ cup (125 ml) boiling water
⅔ cup (150 ml) unpasteurized honey
Instructions
Combine rye, Sage Honey, lemon and grapefruit juice in a mixing glass with ice. Stir until chilled and strain into a Champagne flute. Top with sparkling wine. Gently bruise a sprig of sage and lower into glass to garnish.
To make SAGE HONEY: In saucepan, add sage to boiling water, cover and simmer for 15 minutes. Remove sage and measure ⅓ cup (75 ml) of Sage Water. Set aside.
Gently heat honey to thin it out and make it esier to work with. Combine Sage Water with warm honey and stir to dissolve. Store refrigerated, up to 1 month. Makes 1 cup (250 ml).
Featuring