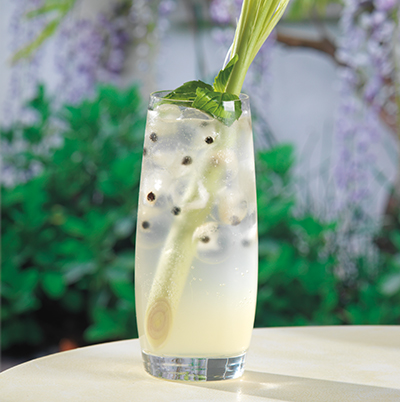 Ingredients
Serves 1
1½ oz (45 ml) Bombay Sapphire East Gin
¾ oz (22 ml) Saigon herbal syrup
black peppercorn ice cubes, optional
3 stalks lemon grass, outer leaves removed, cleaned and sliced into small pieces
1 tbsp (15 ml) loose leaf jasmine green tea
2 tsp (10 ml) black peppercorns
40 leaves fresh purple basil
Instructions
In a collins glass, combine gin, syrup, lemon juice and soda water. Stir gently to combine before filling the glass with ice. Garnish with a stalk of lemon grass and basil.
Optional: freeze some black peppercorns into your ice cubes for an interesting look.
To make SAIGON HERBAL SYRUP: In a large pot, boil lemon grass in 6 cups (1.5 L) of water until reduced by half, about 10 minutes. Reduce heat to simmer and add jasmine green tea, black peppercorns and fresh basil. Simmer all ingredients for 10 minutes, then strain to remove solids. Rinse pot. Measure remaining liquid and calculate two parts sugar for one part liquid. Combine sugar and liquid in the pot and simmer until dissolved. Remove from heat and let cool before storing in a sealed container in the refrigerator.
Featuring